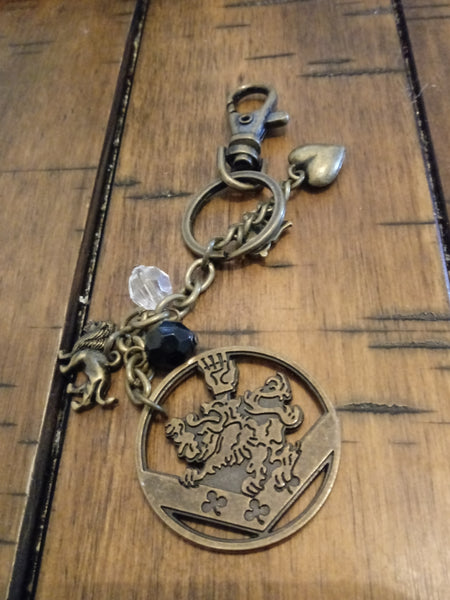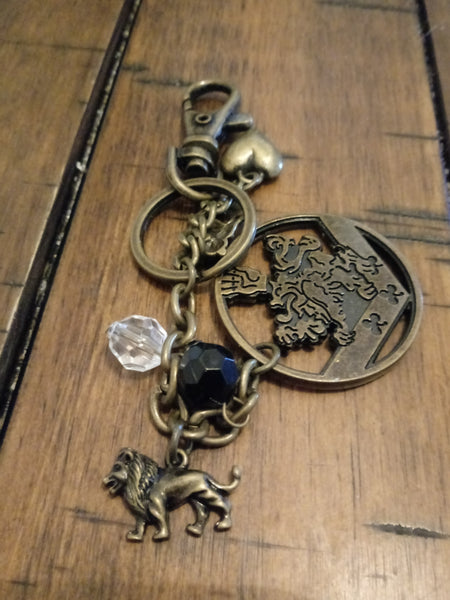 Always After My Lucky Charms
Magic has been cast into this piece based on the symbolism that is present in the piece. The keychain may have originated as a simple keychain, but anything is possible when you have the kind of magical connections that we have. We asked Grizzelle to empower this piece for us, just because we like the symbols that are present.

First, you will see the wealth dragon that is in the largest part of the keystone. He holds the hand of wealth that will go forward and pull wealth energies and powers into your life. These are combined with the luck of the three clovers upon which he stands. This combination of luck and wealth and be used to gain wealth at places such as casinos, playing the lottery, placing bets or any other type of games of chance.

The lion gives you divine protection from evil and darkness. The heart gives you the magic that will allow you to find true love. The black and white beads represent black and white spells because when you cast using this piece, it amplifies both black and white magic by 13x.

Finally, there is a little dog charm on this keychain. At least that's what it looked like to us. We have instilled that charm with the power of the sixth sense. This will give you the ability to see all the dead people who exist in the atmosphere around you, to spirits out by name, and to gain all of the spirit energy when doing magic.

You can either wear this piece by clipping it to your body or wear it as a keychain for which it was intended.
---