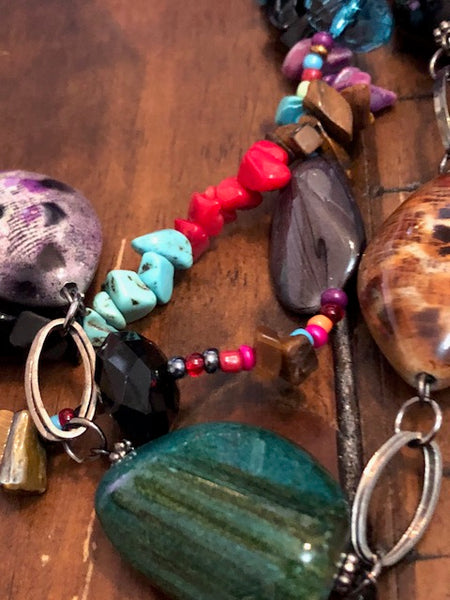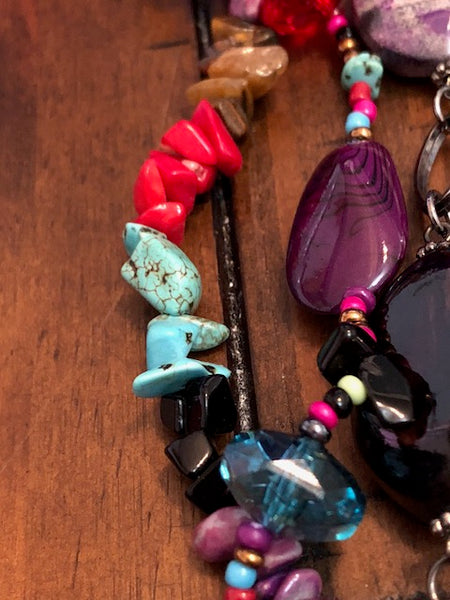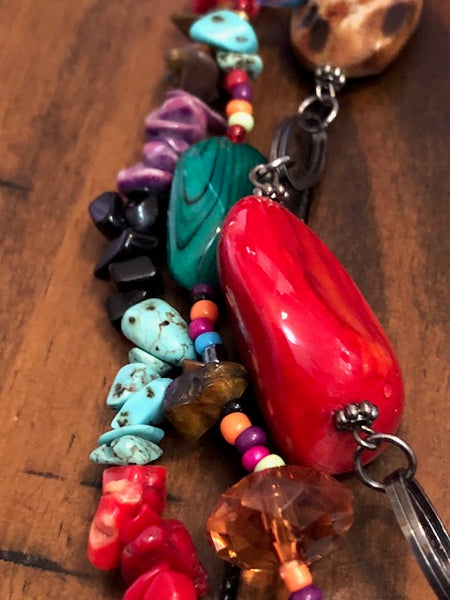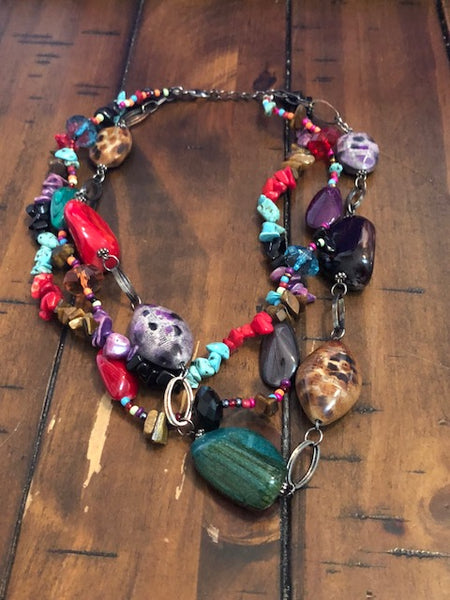 Your Anasazi Guide to the Constellar Doors
I really wanted to keep this piece, but Deedee told me that I wasn't allowed. I just wanted to keep it because it is awesome looking. It has all these authentic natural gemstones on it and it creates a display of earth tones that is just astonishing. However, there is more to the story than how earthy this piece looks. The stones actually once belonged to a Native American Shaman. He was Hopi to be specific. If you know anything about the Hopi Indians you will know that they have longed been associated with alien visitations. It is the aliens that visited the Hopi that provided the magic that has gone into the earth stones. I'm not sure how old the stones themselves are but they have been passed down from generation to generation for quite some time. This piece is more contemporary because we had it made ourselves once we acquired the stones on an investigation.

When used all together these stones create a ground for the soul and for the chakra system. It is no secret that the Hopi Indians were star walkers, which is what this piece also does for you. Once the piece gives a grounding that connects you to the Earth, this piece allows energy from the cosmos to enter your body through the third eye. This energy will give you the ability to become an Anasazi Star Walker. The Star Walkers were ancients who were able to travel through the doors that the constellations guard. Behind each one of these doors, there is a very powerful magic. That's why the constellations were set in place, to begin with, to guard over these powers. However, as a Star Walker, you are granted access to these powers. It is an ability that aliens have been using for years to be able to build their magic and technology.

You will be surprised at the amount of energy and magic you will come across using this piece. It literally provides a way for you to leave your body behind and astrally project your soul into space to walk among the stars to travel through constellar doors that would otherwise be sealed. The powers that you gain will totally dependent upon which doors you pass through, but I can tell you this much. If there is a power that you are really itching to have, you will be able to reach out to the Anasazi Guide that you get with this piece and he will show you to the door of the constellation that is guarding what you want. All you have to do is walk through. This is a seriously powerful piece that you will not want to give up. To this day, the Native Americans are producing very powerful magic. This is one of them.
---