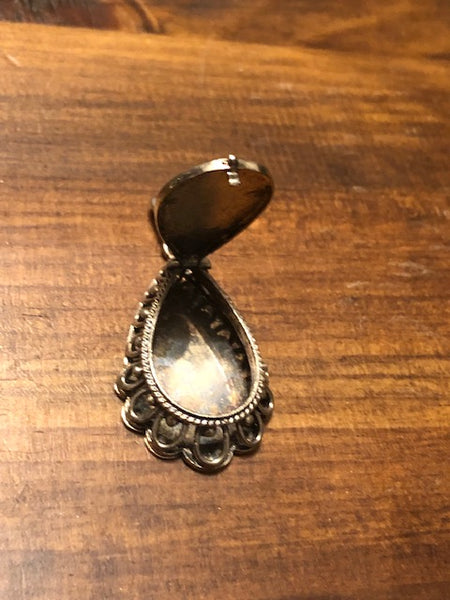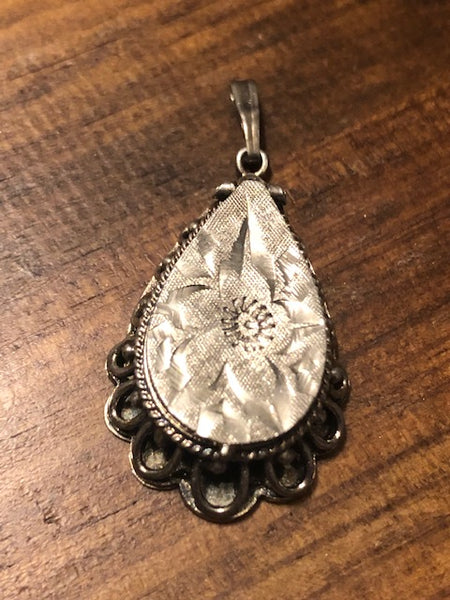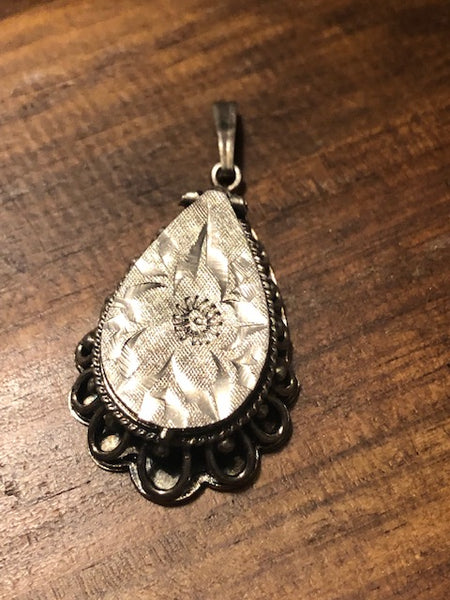 Antique Locket, Keeper of Souls: Voodoo King and All His Queens
THE PIECE YOU ARE READING ABOUT HAS BEEN INFUSED WITH AMAZING, METAPHYSICAL AND VOODOO MAGIC!!  IT IS AN ANTIQUE LOCKET.  THIS PIECE IS POSSIBLY STERLING SILVER, BUT IT ISN'T MARKED.  EITHER WAY, THE MAGIC IN THIS LOCKET IS SO POWERFUL THAT IT DOESN'T REALLY MATTER WHAT IT IS MADE OUT OF!!  KEEP ON READING FOR THE FULL STORY AND MORE INFORMATION!!  
This piece might not look like what it really is. Then again, looks can be deceiving. Inside of it, this piece holds extreme Voodoo magic. I'm talking about Voodoo magic that is so powerful that it is impossible for it to go wrong. I'm talking about Voodoo magic that is hundreds of years in the making. No, this piece is not hundreds of years old, but the power that has gone into making it is much older than that. It is raw Voodoo power that has come to Louisiana from Haiti and from the African Nations before that. It is uninhibited power that is surpassed by very few other types of powers. You see, the reason that Voodoo is so powerful is that it is tied directly to the Earth, but also the soul.

Speaking of souls, allow me to introduce to you a very powerful entity who is known as the intermediary between gods and humanity. He is the god of crossroads and gives or denies permission to speak with the spirits of Guinee and the other gods who therein exist. His name is Papa Legba and he is also the Keeper of Souls. This is because many a Voodoo priest and practitioner has sold his soul to Papa Legba for the ability to communicate with the other gods. Papa Legba even has control over destiny and many have sold their soul for a chance at a better life. It is kind of like selling your soul to the devil because Papa is a sneaky deity. He will have you serving your sentence of eternity doing the things that not even he has the courage to do.

Among the souls that he has acquired are the souls of the Voodoo Queens of New Orleans. After Marie Laveau said her goodbyes to the physical world and went to live in Guinee among the gods it left things in a state of disarray. Nobody really knew who the new Voodoo Queen was and there was a power struggle, which prompted Laveau to return to the mortal world in the form of a daughter, Marie Laveau II, to establish a rank and file order. Only the most powerful Voodoo witch in New Orleans would earn the right to be called the Queen. There has been a successive queen ever since, with the new queen rising to power as soon as the old one slips into the immortal realms.

Meanwhile, just about every single Voodoo Queen to come after Marie Laveau has sold her soul to Papa Legba. They are currently in service to Papa in the spirit realms, doing his bidding. In fact, to this day, the selling of the Queen's soul has become a sort of a tradition in Voodoo-- at least in New Orleans. They don't call the Papa Legba the King of Voodoo for nothing. He has many consorts. He has attached the souls of these consort to a relic that allows him to summon them from where he is. However, this relic was left in the mortal realm and had once fallen into the hands of the current reigning Queen. I'm not sure how she wound up with it or why the relic was left in the mortal realms, to begin with, but this is what happened.
Papa Legba returned to the mortal realms to retrieve his relic, but the queen knowing that she now had the power of every successive Voodoo Queen in New Orleans history refused to give it back to him. He tried every trick in the book, but nothing worked. Eventually, the queen cast a cloaking spell on the piece, which disallowed Papa Legba to know the whereabouts of his prized relic. The relic itself was programmed to deteriorate if ever left in the mortal realm and so it has. However, the power of this relic has been set into multiple new pieces over the times and this locket is the current vessel for this amazing power.

This locke holds the powers that were once in Papa Legba's relic. It holds the presence of every Voodoo Queen to ever exist in New Orleans. It will perform every and any kind of Voodoo magic that you desire, without fail. It even contains a connection to Marie Laveau, the original Voodoo Queen. After all, the rest of the Voodoo Queens are her daughters. Together, the souls of these Voodoo Queens make up one of the most powerful Voodoo pieces we have ever come across. When using the piece they work together to grant you what you want. You own the relic, so they are now in servitude to you. 

Instructions: When using this piece, you must have the following ready. You will need a small picture or personal effect of the person upon who you wish to cast magic. You will need a candle and something to light it with. You will need a blank piece of paper, no lines, and a pen with red ink. If you aren't casting a spell upon another person or yourself, and you are simply asking for power or magic, then no personal effect/picture is needed. You will light the candle, in the dark, while wearing your necklace. You will then place the personal effect or picture inside of the locket if you are using one. If not, you will place a single drop of your own blood or saliva in the locket. If you are using this piece to cast a spell, such as a revenge spell upon somebody else or a wealth spell upon yourself you will write down the spell that you wish to be cast. If you are asking for a power or an ability you will write that down instead. You will then extinguish the candle and meditate with our item in the dark, away from all disturbances. This will allow a connection between you and the spell or power that you have asked for. If you have asked for a power, you must wear your piece, or carry it in your pocket so that it can be granted to you.
---