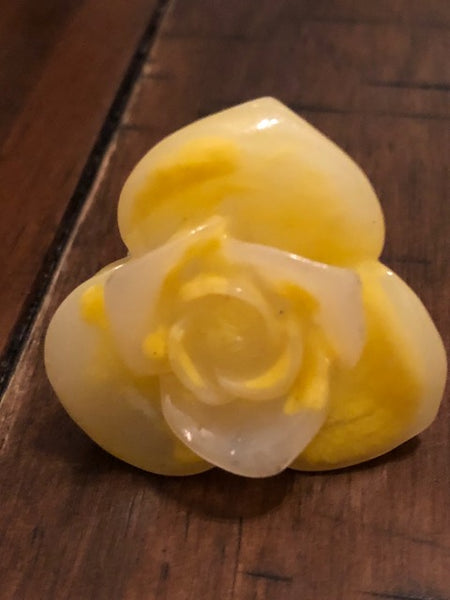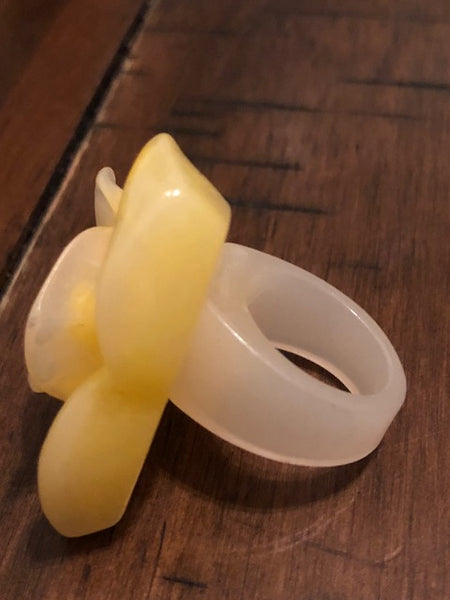 Ring Extravaganza: Patchouli the Yellow Rose Hippie Fairy
The Yello Hippie is actually a fairy that we found in a piece when we weren't even trying to find it. Sometimes magic works like that. To be honest, we had lit patchouli incense to try to activate a different piece that we were testing, when out popped this fairy. Immediately, Deedee felt a connection to her. This fairy is a very peace, love, and everything happens for a reason type of gal. She's very laid back. Depending on your level of psychic awareness at the moment, you may or may not be able to see her when using this piece. I can tell you right now that she isn't one of those Tinker Bell type fairies. She's actually full form if you can see her and looks more like she's a nymph or an angel or something.

Either way, when using this piece, you will be given her magic. She's already agreed to it. This magic includes a whole range of white light spells that she will cast for you simply by you casting a thought form. Your thought form then materializes into a spell. She also does spiritual healing and cleansing, grants good health and longevity, and summons wealth. To activate the piece you will need to light a stick of Patchouli incense. This is where she got her name because she loved it so much. We call her Patchouli the Yellow Rose Hippie Fairy Once you meet her and get to experience her personality, you'll understand and you'll love her.
---