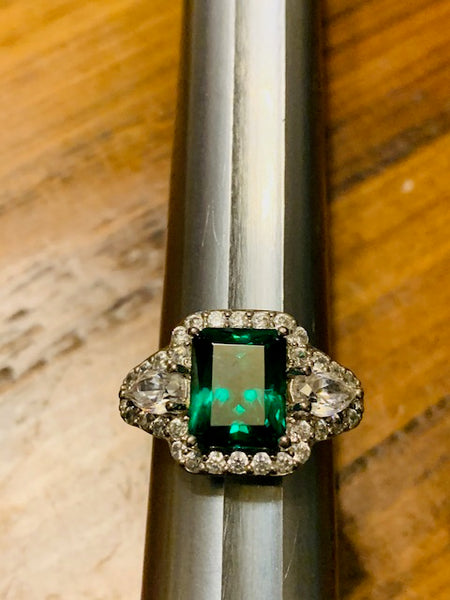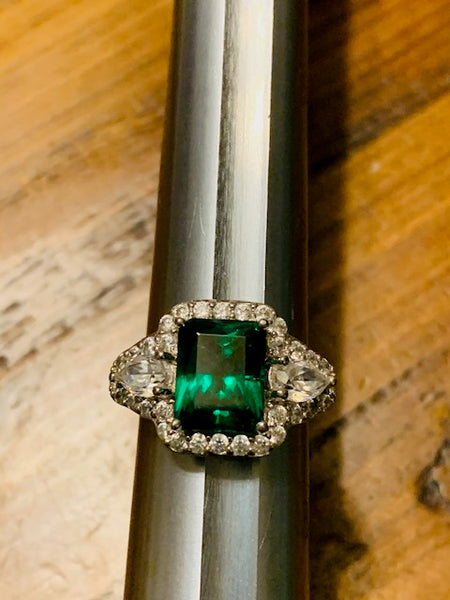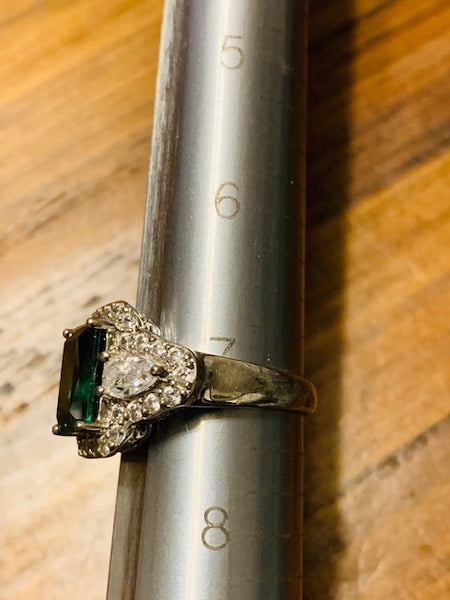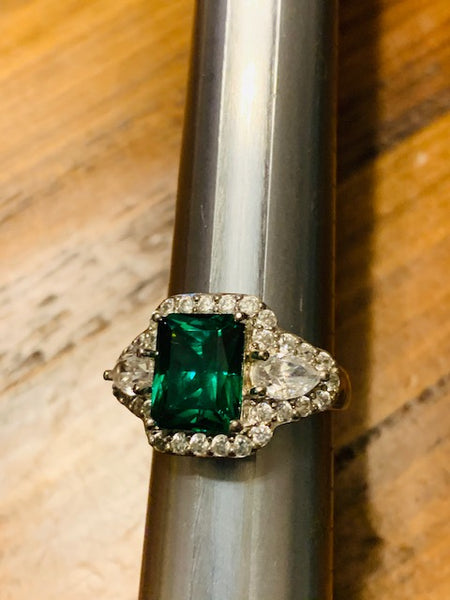 42 Emerald Plates of Thoth
7-24-20
The piece that you are getting is an absolutely gorgeous sterling silver ring with green quartz.  It's also very powerful, so it's a win-win kind of situation!  It's slightly bigger than a size 7.
Sometimes we are lucky enough to just be in the right place at the right time.  We like to think that this is destiny and that the world supports our fight to free magic and make sure that everyone has proportionate access to it.  Since the beginning magic has been hoarded by those in power.  There is something intoxicating and empowering about having secrets that others cannot possess, especially when they grant you unlimited power especially when others don't know the secret.  This is pretty much a mortal concept, as most other beings and entities that we've ever come across share their magic freely for the most part.  
Take the Atlanteans, for instance.  All of these beings were highly enlightened and they existed across a network of magic that was freely accessible to all.  They hid their magic in pyramids and temples and some of it has been lost over time, but they never really restricted the magic that was accessible to their society-- unless they felt like it was a danger to their existence.  Ironically, Atlantis is the place where some of the most hidden and hoarded magic has come from.  This isn't by the hands of the Atlanteans, it is by the hands of mortals who have gotten their hands on ancient bits of Atlantean magic and refused to share.  
One such example of this magic is the Emerald Tablets of Thoth.  Thoth was an Egyptian god who existed in Atlantis prior to the Great Deluge.  He was worshipped by the ancient Atlanteans because of the power, magic, and secrets of the universe that he offered to them.  This was unlimited knowledge of the entirety of creation that created a vortex through which the Atlanteans could pull through and manifest any magic that they desired.  In a place called the Emerald Temple Thoth divide his knowledge onto 42 plates of Emerald.  These carved emerald tablets were kept for the Atlanteans to see and to know freely.  
Some believe that the magic that is offered by the Emerald Tablets is so powerful that the magic of them is what caused the Great Deluge.  Maybe in this reality that is true.  However, in other realities, the Emerald Tablets still exist freely to all in a land where people exist peacefully amid the magic they practice.  The tablets haven't been hoarded like they have been in this lifecycle of Earth, by people who want to use the magic to impose their superiority over others.  In the reality that we live in the Emerald Tablets have been secured by the Illuminati and the NWO that rule the world.  
They use these tablets to invoke magic from the universe that they then use to oppress people.  They keep wealth and magic to themselves.  They use this magic to enlighten themselves and advance their position while keeping humanity at large in a metaphysical stupor.  Humanity lives in a vicious cycle of work, collect, repeat.  The people at the top have monetized every aspect of human life and that is to keep them subdued.  People are more worried about how they are going to pay their bills and support their families than they are about seeking ethereal truth.  
The piece that we have wasn't created in this reality or in this life cycle of Earth.  Rather, this piece was created when were testing another piece.  This other piece allowed us to create quantum gates to other realities.  While we were experimenting with this piece, we accidentally opened a gate to the Emerald Temple.  This was seriously, seriously an accident.  This is why I say sometimes we just find ourselves in the right places at the right time.  It's no coincidence, either, that Deedee happened to have this piece on her.  I mean, it's not emerald, but its sterling silver and green quartz.  
Through a rather intense process, we were able to duplicate the magic of Thoth's Original Emerald Tablets into this piece.  This piece holds the magic and the secrets of all 42 Emerald plates upon which Thoth carved his universal and infinite knowledge.  This knowledge is unrivaled in the mortal realm, save for by God who created our universe.  When you own this piece you get direct access to the Emerald Tablets of Thoth.  Like the ancient Atlanteans, you can use this piece to open a vortex.  
This vortex will exist within your mind.  You can request anything from this vortex and it will deliver to you.  Thoth's knowledge is universal and the tablets hold this knowledge, so there is nothing that will be discluded to you.  The knowledge vortex within your mind is the all-inclusive knowledge of Thoth.  If you want to know something, it will be delivered.  If you want a power or ability, it will be delivered.  If you want a particular magic that will also be delivered.  All you have to do is think of it in your mind and the vortex will manifest what you have asked for within your mind.