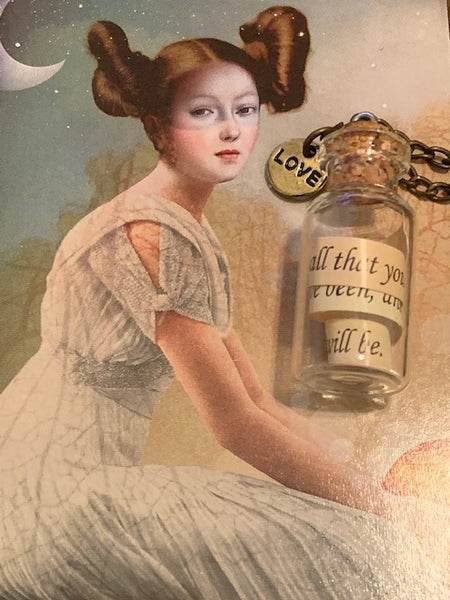 A Potion That You Read, If Love Is What You Need
SOME OF THE ITEMS THAT WE SELL ARE MISSING STONES, HAVE SCRATCHES, ETC. THIS ISN'T EVERY PIECE. IN FACT, IT IS VERY FEW PIECES. IF THIS IS THE CASE IT IS BECAUSE WE GOT THEM THAT WAY, BECAUSE THEY ARE OLD, OR BECAUSE THEY HAVE A LITTLE BIT OF WEAR DUE TO TESTING. WE HAVE TO HANDLE AND TEST ALL THE PIECES THAT WE SELL TO MAKE SURE THAT THEY WORK PROPERLY AS PER THE DESCRIPTION. MANY OF THE ITEMS WE OFFER ARE VERY OLD, ARE ANTIQUE, ETC. SOME OF THE ITEMS REFLECT THAT WEAR. THIS DOES NOT MEAN THAT YOUR ITEM IS LESS POWERFUL OR WILL NOT WORK WHEN YOU GET IT MAILED TO YOU. THESE PIECES ARE FEW AND FAR BETWEEN ANYWAY. WE JUST WANTED ALL BUYERS TO BE AWARE OF THIS BEFORE THEY PURCHASE.

Also, Before making a purchase, please make sure you read and are familiar with our shipping policy: https://youtu.be/y8uA4M7ijVk

This vial holds a love potion, but not like the one you would typically encounter. Instead of drinking this love potion, you will take out the little message with tweezers or small forceps. You will then unroll and read what the paper says. You will read it out loud three times. After the third time, you will state your intention. For example, if you are searching for a true love, state that. If you are trying to fix a money problem in your marriage, state that. If you are trying to get better sex, state that. If you are trying to fix communication within your relationship, then say that. It really just depends on what you want. You will then say it out loud, roll the paper back up and put it back in the bottle. Then, keep this piece on your person for no less than three days. The energies from your body will react with the energies in this bottle and whatever you have asked for will come true. Again, not your typical potion, but it does work!!