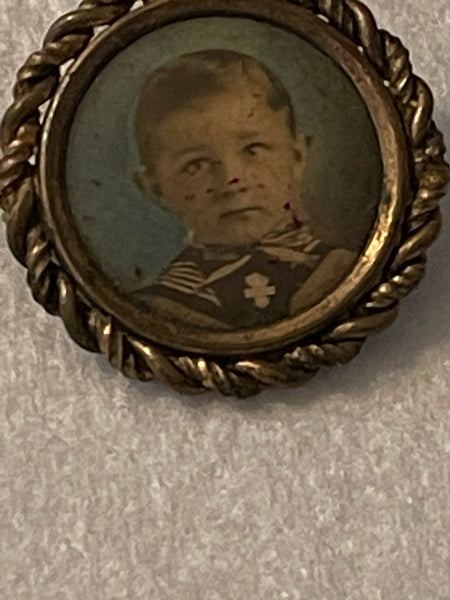 Adopting Bertram
4-7-21

We now take several forms of payment. You can pay with your credit card through PayPal. You can also send money via PayPal to kissmecrazie@gmail.com or ask for an invoice to be sent. We also take CashApp and Venmo. When using these forms of payment you will ask for an invoice and one will be sent. We also take Zelle, which is through your bank and your bank sets the limits. when paying through Zelle you will pay using the email kissmecrazie@gmail.com. We also take cash in an envelope, but you sent it at your own risk. We are not responsible for lost or stolen cash that is sent to us that we do not receive.

--------------------------------------------------------------------------------

This piece is a Victorian Mourning locket. Shown is a picture of a boy who sadly passed away at a young age. Honestly, we don't know what he passed away from. We tried to get information out o the lad, but he won't talk about it. Maybe you could approach it differently and he will talk about it with you.
.
It's not really important how he died, though. His soul is attached to this piece. His name is Bertram. This was created because after Bertram passed away his mother had a bit of a breakdown in a bid of desperation, the boy's father visited a medium who was able to make contact with Bertram and summon him into this piece. The spiritual presence of Bertram was quite enough for the mother, as she thought it was a good way to keep her baby as her baby forever

Bertram is not a pain to have around. He doesn't talk to much, but he will occassionally ask you things. He is curious and might ask you about modern things such as the Keurig. He was particularly fascinated with that when he was watching me make a cup of coffee. He was also fascinated with my laptop. The bottom line is Bertram's spirit is attached to this piece and he just needs somebody to give him a good home. It might take a little while for him to warm up to you. I told him we were going to find him a permanent place and he seems pretty open to the idea. Just let him get used to your place before he feels comfortable crossing the physical-spiritual threshold.

As gifts for giving a place to stay, you will receive several metaphysical energies and forms of magic. First, Bertram's spirit will create a layer of protection that will keep him safe from evil. It will also keep your house and those in it safe. He comes with natural wealth energies that will generate wealth for those in your house. His spiritual energies will also allow you to open up a portal through which you will be able to pull through any spirit of your choice.

His energies also generate a ton of luck. When this piece was being tested a few of the testers reported strange-but-good things happening to them. For instance, one of the testers won a raffle for a new car. Another one of the testers reported winning the lottery for a few thousand while using this piece. Another one was proposed to. It just increases your luck and the odds that positive life change will take place. Plus, Bertram is really a good spirit to have around. He doesn't require much except a little bit of attention.