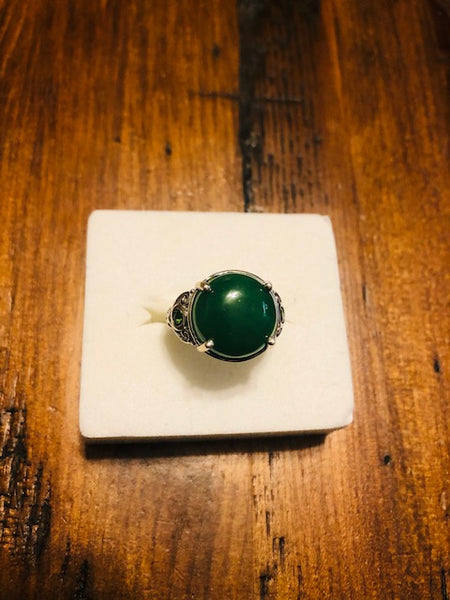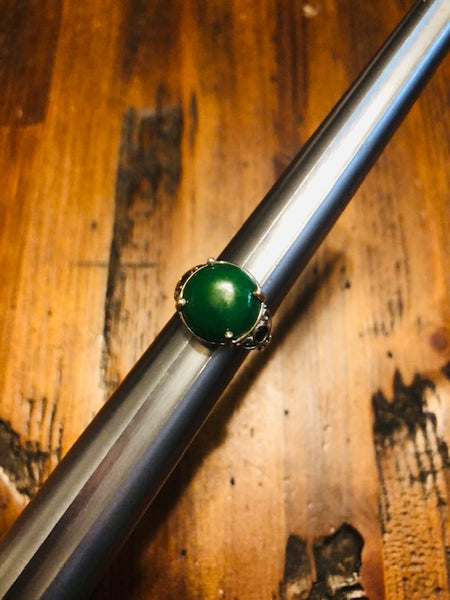 Alien Transfusion
3-11-20
This is a very powerful ring that has been made with sterling, real jade, and other genuine stone.
We told you that we'd be getting some more items in from Area 6.  If you aren't familiar with Area 6, all you really need to know is that it is a secret government facility that is supposedly for the testing of drones.  They test drones there, but that is not all that goes on at the facility.  There is an entire subterranean base there that houses many different projects.  This is just one of the many projects that are ongoing in Area 6.  We can only imagine what else is going on there.  We are trying our damndest to make sure that we are offering the first of the items that come Area 6, which is a fairly recent development.  
This piece holds the energy that we are calling Alien Transfusions.  Truth be told, this piece was created with the blood of an extraterrestrial.  We don't know what kind of extraterrestrial.  All we know is that it was created.  We know that when you wear this piece the energies of the alien blood flow through you and the alien DNA will be conjoined with you.  This will not only give you a full cosmic psychic awakening, but it will also give you a connection to an ancient alien world.  Well, it's more of a city and the city is huge. 
You will receive visions of it when you wear this piece.  It is a very large city, larger than LA and New York put together.  There are giant statues of gods and weird buildings and beings that look way different than any alien that I've ever experienced  They are benevolent creatures and through your visions you will actually be able to telepathically connect with them.  Through this connection, you will also gain knowledge of something called the Central Hub. 
All of these beings you will encounter exist along the same central nervous system and information system.  What one of them knows, they all know.  This is how they are all extremely enlightened and powerful beings.  You will be connected to the Central Hub and you will share their knowledge of ancient alien magic.  Of course, this will seem like space-age stuff you because we aren't nearly advanced as they are.  To them this stuff is ancient.  To us, this stuff is wondrous, life-changing, even reality-changing.  This is a piece that is necessarily going to give you everything desire.  Rather, this is an exploratory piece that puts you in connection with a highly advanced race of aliens that will offer you their version of highly advanced, powerful magic.