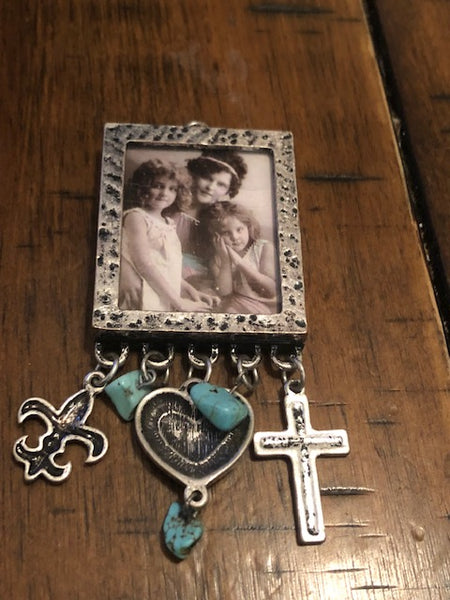 An Original Prayer Box
PLEASE BE SURE TO VIEW OUR UPDATED SHIPPING POLICY. IF YOU CHOOSE NOT TO, WE ARE NOT RESPONSIBLE FOR ANY RESULTING DIFFICULTIES OR INCONVENIENCES.

https://youtu.be/y8uA4M7ijVk
This piece holds what we call a prayer box.  The box has two sides.  On one side you will notice there is a picture of children praying.  On the other side, there are what appear to be three mortal girls.  In actuality, these girls are not mortal.  Rather, they are three angels that are going to answer three prayers that you choose to be answered.  The other side of the box that you see that holds the children praying symbolizes that the energies of prayer have already been trapped inside of this box.  
When you won this piece, the energies of prayer will be activated when you touch this piece to your skin.  This is concentrated prayer energy, stronger than any other type of prayer.   When you are holding this piece against your skin, you will state what three prayers/miracles you want to be answered for you.  Think long and hard, because you only get three and they are guaranteed to come through.  You can pray for anything you'd like-- money, fame, fortune, health, whatever it is you want.  You must state all three at the same time.  Then each one of your prayers will go to one of the angels on the flip side of this box.  At this point, the prayer is already as good as answered.  Again, this piece can also grant miracles if that is what you are after.  
When you are done with your three prayers, this piece can be cleansed with salt water and either kept as a memento or passed onto somebody else you know that might need the same help that you did.