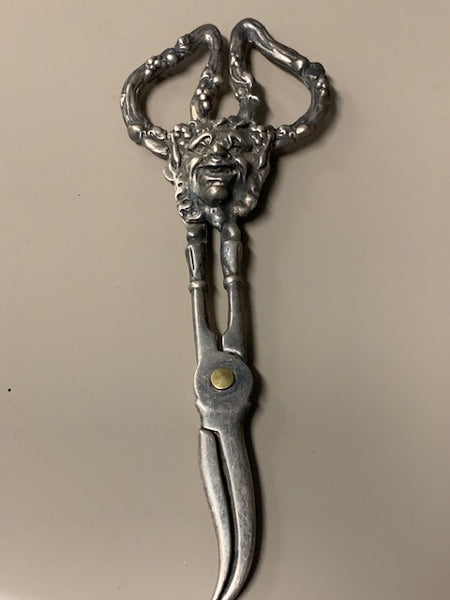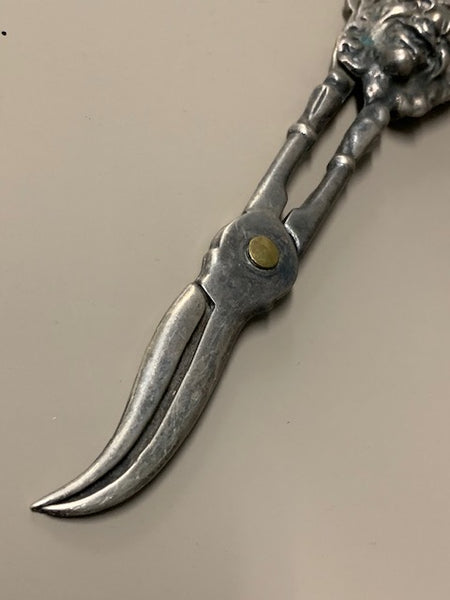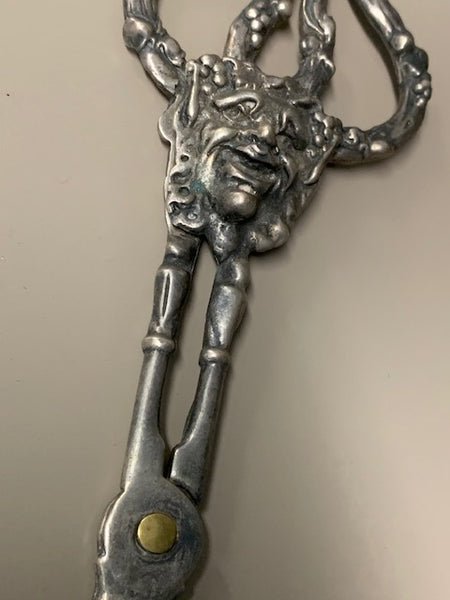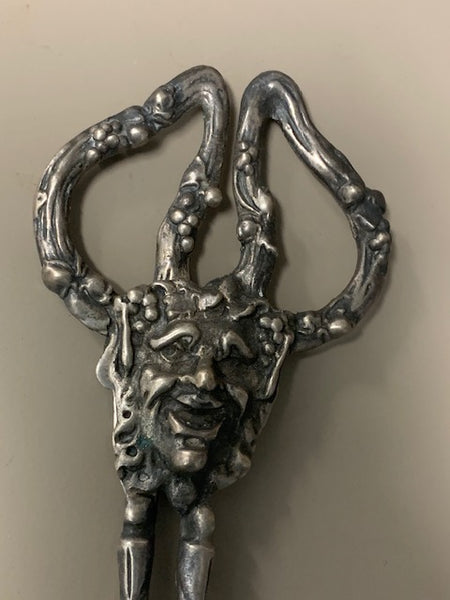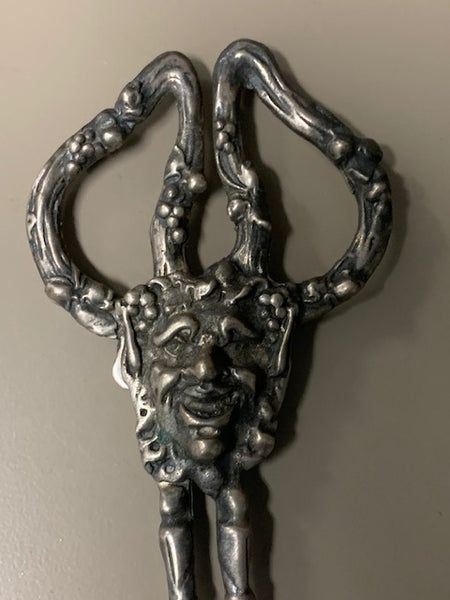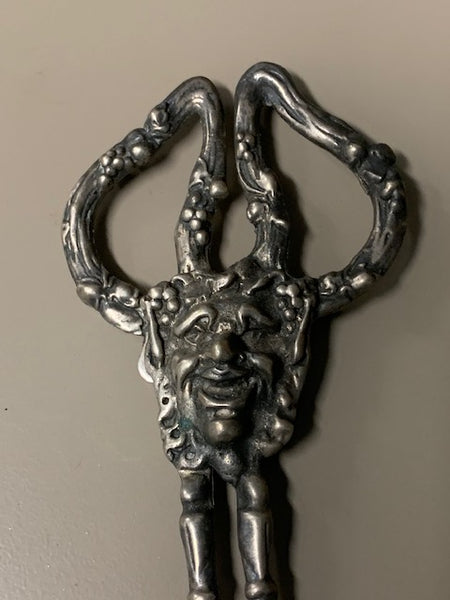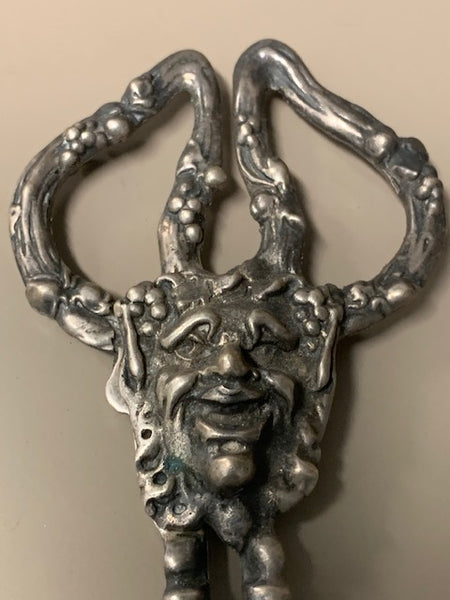 Antique, Solid Sterling Silver Shears w/ the Face of a Deity: Shears of Mithras
Preface-- If you wanted a relic that holds mysterious powers you have come to the right place. If you have wanted a supernatural relic that gives you the occult knowledge of thousands of years, then search no more. You have come to the right place. If you wanted to own a piece of metaphysical history that was actually used is rituals and has been used to created magic for decades, then you've also come to the right place. These shears are a tool that has been used in the rituals of one of the most mysterious secret societies to exist in world history. Their existence is so mysterious that most of the knowledge that exists about them is hearsay. A central thesis or code of magic has never been discovered to put this group on the radar. They are simply known about by name and that is pretty much it. So, the relic that we are offering is pretty incredible and powerful. It is also very unique and pretty much a one-of-a-kind item. It is extremely powerful. We have more on all of this to come.

One of the many powerful abilities that we have acquired over the years is the ability to appear invisible to people around us. This isn't as common as some people might assume because it involves heavy psychic connection and the ability to manipulate the minds of those around you. If you are trying to do your own thing while you are still trying to hold the minds of others at bay while they are also trying to do their own thing-- it just gets hairy. It's not like they show in the movies where you can just smear yourself some vanishing cream and then you are invisible. In fact, it's not even as much invisibility as it is manipulation of the minds around you. Like, I said it is difficult to master, which is why you don't see many of our items purporting to be able to render you invisible. It is an extremely difficult process, but Deedee and I have oftentimes been able to overcome the most difficult of challenges, especially when it directly affects our ability to successfully complete an investigation.

In ancient times Alexander the Great went on conquests to conquer the world. This included his conquest of Persia. While he was able to execute this conquest pretty flawlessly, one of the bits of knowledge that was brought back to Greece with him and his warriors was the knowledge of a god called Mithras. He is the god of the sun and of the airy light between Heaven and Earth. As such, he can appropriately be labeled as the god of knowledge, or at very least, a god that had due knowledge granted that the radiation of light from the Sun, in its very nature, is also the emanation of pure knowledge. I won't bore you with details, but the reason that the sun is so powerful is that it reflects the illustrious knowledge that is held at the Cosmic Center of the Universe. This is also where the Akashic Hall of Records exists. it is pure knowledge and it is the epicenter of existence fore our universe. It sees and knows all things and this knowledge is transmitted throughout the universe via light waves, which travels at the fasted rate of speed. This is why the sun, stars, planet, etc. are all sources of great knowledge that can be harness by human beings when they are spiritual enough to connect to them. This is also why Mithras, God of the Sun and Light, is also the great bearer of ultimate knowledge.

The knowledge of Mithras was brought back with Alexander the Great from his conquests and from the assimilation of Persian culture into Greek and then Greek into Roman, the Knowledge of Mithras was eventually spread to the Roman Guard. They founded a Mystery Sect that would eventually be called Mithraism. Mithraism was reserved for the very wealthy, powerful, and handpicked people of Roman times. They were very secretive in what they believed and you had to be an initiated to even partake in any of their festivals, feasts, rituals, or other secret ceremonies that they held. Of these rituals that they held, one of them per year was a human sacrifice ritual. However, this wasn't the kind of sacrificial ritual that involved the abduction of people from around Rome. Rather, the people who were sacrificed in these rituals were hand-selected among the most powerful of the Mithrainists Priests to be murdered by his peers to join Mithras on the spiritual planes where he existed in pure knowledge.

They built temples under the Earth where they would gather for spectacles such as this one. Their temples were very cheaply built, as noted by historians via the few of these temples that have been discovered. This is because the location of their temples was constantly changing. The reason behind this was simple. One, they didn't want people to find out where they were meeting. Two, things go bit messy at the temple, specifically when it was time for the annual blood ritual that they called the Ascendence. Historians and others who have studied this "Mystery Cult" are under the belief that these religious practices have been quote, unquote "dead" for some time now, but they couldn't be more wrong. Now, more than ever, the Mithrainists are preparing for a cultural revolution and a mass shift toward spiritism and to an age where they can introduce the masses to the knowledge and that has been given to them through Mithras.

This brings me back to my rant from earlier about how difficult it is to become invisible. It is insanely difficult, but it also allowed Deedee and myself to gain a firsthand account of one the Ascensions. The date and location of the Ascension were revealed to us by a source who shall remain anonymous. This source is still very much involved with the Mithrainists, so we don't want to blow our cover and make things worse for the person who let us in on the secret. He wanted us to be able to observe and report. The decision to actually confiscate this artifact was ours and ours alone. In fact, he wasn't too happy with us when he found out that we had taken them, but what is going to do really? He can't expose the fact that he let us in in the first place. I mean, he is the one who said the knowledge needs to be exposed, not us. Besides, they have plenty more artifacts that the one, so we took one. No harm, no foul. I mean, why else would he have put us on to their ritual if he didn't want us to shed some light. It was an experience that we will not soon forget. In fact, it was kind of grim and celebratory at the same time. It was grim because somebody died. However, this was only a mortal death and the person's soul was remitted in the spiritual planes of knowledge.

We were only able to attend the ritual because we were able to alter the collective consciousness of the people that were partaking of the ritual to not notice our presence. In other words, we rendered ourselves invisible. There was a lot of formality, but when it was go time they got things done. There were four elders who sat around something in the ground that looked like a baptismal font. These four elders did not show their face, rather they were wearing dear masks and bull masks with antlers and horns. There were two of each. As the name of the person that was being sacrificed was called, they emerged in the Temple from among the very small crowd in attendance. He went into the baptismal font, where he was cut open with a pair of shears. His blood was allowed to drain into the basin, whereupon the elders in the masks exposed their naked bodies and rolled around in the blood. It was if they were overtaken by animal instincts and the energies from the spilled blood drove them into a frenzy. Covered in blood, they began to have sexual intercourse with one another. The small group of people in attendance began to grunt and cheer and they broke out into a low, breathy, and rhythmic chant while the masked priests continued to pleasure each other in their fits of animalistic rage.

As we watched, a light from a single window at the top of the temple beams down upon the basin where the blood was spilled and from the blood rose a soul form that was bound to the four that killed him. However, the four took the shears that I mentioned before and literally cut through his spirit. This allowed his spirit to leave the mortal realm and travel to the plane of light where Mithras lives. He was literally beamed up by the light that shone forth, the light disappeared. At this, the people in attendance applauded and cheered wildly. The elders put their robes back on the ritual was over. Things went back to normal and one by one those in attendance left without saying a word to each other, It was one of the strangest things I've ever encountered, but the ritual was powerful and at that moment when the light of Mithras entered the temple we could feel the power of his knowledge beaming into it. The feeling was powerful and unreal. It was unlike anything that I could describe. It was just sheer power and knowledge and control.

As I have said, we were able to hi-jack the shears that were used in this ritual. We took the shears while the blood was still fresh. We allowed the blood to remain on the shears for a total of seven days. Also, the blood was taken off during a flame cleansing, not water or bleach or anything like that. Thus, the presence of the blood is still on the artifact. When looking at the artifact you will see the face of a humanoid creature. This is Mithras. With the blood, the spirit and presence of Mithras lives in this piece. We know because we have tested this piece many, many times. We have been able to use this piece to connect with Mithras and to ascend from our mortal bodies to be with him in his plane of light and knowledge. This is the same ability that you will acquire when using the shears.

You need not do a blood ritual with the piece. When using it you must only offer it a drop of your saliva to give it your DNA. When you do this, you will meditate with the piece. The piece itself is solid sterling silver and vintage with a large face. This face, again, depicts the presence of Mithras who dwells within this piece. When you meditate with it, you will be faced with the true form of Mithras in your mind. He will allow you to pull your spirit from within your body and to travel to the Planes and Realms of Light in which he walks. This will open up your third eye and allow you to telepathically communicate with him. Once this is done, you will be able to "tell" him all of the things that you desire to know, what magic you desire to have as your own, what places you desire to see, and what power or abilities you desire to have. As the God of the Sun, Light, and Knowledge, he will be able to shed light upon your requests and that is no pun.

There is nothing that the god does not know and there is nothing that he cannot show you or allow you to acquire. All that is needed is this piece that we are offering, some meditation and a little bit of patience and this piece will work for you. Also, you will stay anchored to your mortal body, because when you are using this piece you will not be cut free, one because you haven't been sacrificed and two, because you have nobody to cut that chord that keeps you anchored. You will return to your body, so those of you who were worried about that, don't be. Between Deedee and myself, we have used this piece dozens of times. It is extremely powerful in getting what you want.