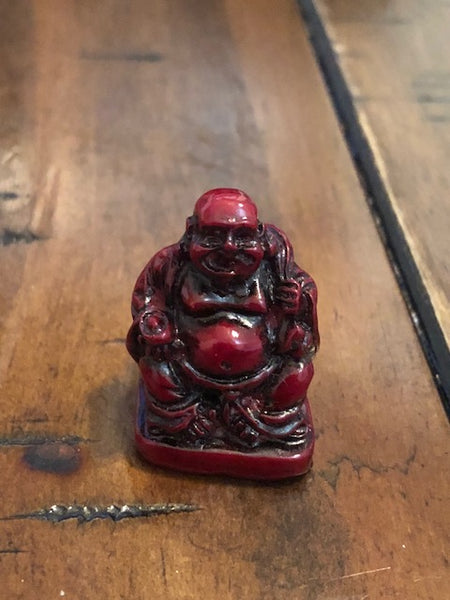 Asian Love and Wealth-- This Buddha Tested Positive... For G.A.M.E.
Sorry ladies, but this one is for the fellas.  To be honest, you should probably be kinda glad that it is.  How many times have you, as ladies, been approached by a rude man who gives you some lame pick up line and expects you react like you've just seen an angel?  Yeah, I'm sure it happens all the time!!   It's super lame.  
And fellas, maybe you're not even trying to be rude.  Maybe you have social anxiety.  Maybe you are a bit rusty in the dating department?  Maybe you are a narcissist and you think that what you are saying is funny, when in fact it is the farthest thing from funny that you could get?  Hey, either way-- this piece is for you.  
This piece is a happy little Love Buddha, but he brings love in an unconventional way.  He has a swag bag full of tricks that will enlighten and heighten the intelligence of men so that way they know how to treat the ladies.  This Buddha has got it all-- manners, personal hygiene, grooming abilities, and all the words that work.  He will give you the ability to win over any girl that you want.  we have been testing this piece and this he has just been tested positive-- for G.A.M.E.  That's right, so if you have no approach and you are trying your hardest to win over the ladies, go from no-no to mojo with the powers in this piece.  
Ladies, feel free to buy this piece and slip it into the pocket or satchel of a man that you think needs it.  They are usually named like Nigel or Chad or something like that and they sit in the corner of the bar drinking gin on the rocks.  Either way, if you have someone who is constantly targeting you, you can also get this piece.  Give it to them.  Tell them it was something that made you think of them.  They love to hear that stuff.  I bet hid demeanor changes right up!!  
Either way, this piece is equally as potent.  Get it while it lasts!  By the way, this piece is carved out of natural wood!