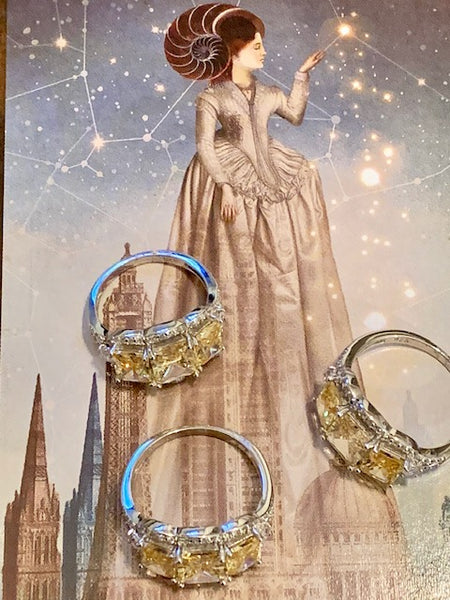 Astral Necromancy-- Share A Point in Time With The Dead or Connect With the Living in the Astral
SOME OF THE ITEMS THAT WE SELL ARE MISSING STONES, HAVE SCRATCHES, ETC. THIS ISN'T EVERY PIECE. IN FACT, IT IS VERY FEW PIECES. IF THIS IS THE CASE IT IS BECAUSE WE GOT THEM THAT WAY, BECAUSE THEY ARE OLD, OR BECAUSE THEY HAVE A LITTLE BIT OF WEAR DUE TO TESTING. WE HAVE TO HANDLE AND TEST ALL THE PIECES THAT WE SELL TO MAKE SURE THAT THEY WORK PROPERLY AS PER THE DESCRIPTION. MANY OF THE ITEMS WE OFFER ARE VERY OLD, ARE ANTIQUE, ETC. SOME OF THE ITEMS REFLECT THAT WEAR. THIS DOES NOT MEAN THAT YOUR ITEM IS LESS POWERFUL OR WILL NOT WORK WHEN YOU GET IT MAILED TO YOU. THESE PIECES ARE FEW AND FAR BETWEEN ANYWAY. WE JUST WANTED ALL BUYERS TO BE AWARE OF THIS BEFORE THEY PURCHASE.

Also, Before making a purchase, please make sure you read and are familiar with our shipping policy: https://youtu.be/y8uA4M7ijVk

For beginners, we have three of these pieces and I expect them to sell quickly simply because of what they can do for you. If we need to get more, we probably can. If you are reading this listing and you don't see anymore in stock, send us an email and we will let you know if and when we can get you one. It may not look like the ones pictured, but they will hold the same powers.

These three rings are sterling and they been cast with a certain type of magic that is called Astral Necromancy. I'm not really sure what kind of being it was that cast the powers into this piece. All I know is that he wasn't the typical paranormal being you could encounter. He was a vampire or a werewolf, or a sorcerer. He was something else entirely. He calls himself an astral entity, so whatever that means, that's what he is. He is the one that created these pieces and gave them to us when we encountered him on the astral planes.

With the Astral Necromancy in this piece, you will be able to go back in time to relive a point in time with anybody who has died. This could be a family member such a grandmother or grandfather. You will be able to go back and relive your memories with them one point in time at a time. You will be able to feel, touch, and interact with the person because they will really be there with you. You can also use this piece to relive a moment in time with somebody has died that you weren't related to. You can use this piece to connect and relive moments with dead celebrities like Marilyn Monroe, Lucille Ball, Frank Sinatra, King Henry VIII or Napolean. You can use this piece to relive a moment where you can gain powers and/or magic from another person. For instance, you can relive a moment with Marie Laveau, during which she will give you Voodoo powers. Aleister Crowley would give you the powers of Aiwass.

Since we know not everyone you want to connect with has died, we have tweaked this piece to include people who are still alive. With this piece, you will be able to meet the people that you want to meet on the astral plane. This piece will summon them subconscious to the astral planes, where you will be able to exist with them. You can use this piece to simply meet some of your favorite celebrities or a faraway family member, or maybe your real parents if you are adopted. You can also use this piece to meet people on the astral plane for purpose of gaining power from them. Stevie Nicks could give you quite a bit of spellcasting power. The Queen of England could grant you virtually any power you want. The Royals to all kinds of rituals.

How you will use this piece and what you will do with it is entirely up to you. They are extremely powerful. This is the first time ever that we are offering Astral Necromancy, so make sure that you take advantage of it! Also, don't forget if they are out of stock let one of us know and we can see about getting one made for you!! Regardless if they are this piece or another one, they are $200.00 a piece and worth every dime!