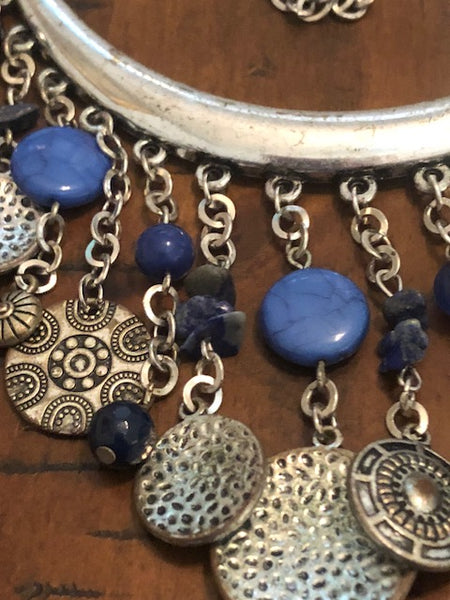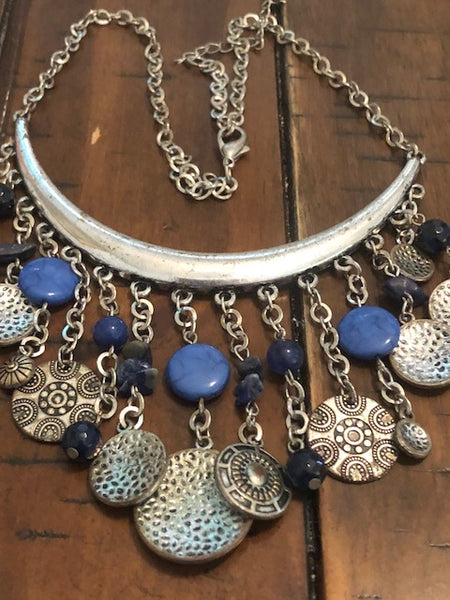 Aztec Star Discs
This piece was created by an Aztec Shaman, or more appropriately a descendant thereof.  It holds astrological magic that the hidden tribes practice to this day. The hidden tribes are the ones that are still yet to be "found" who live in the Amazon. The reason they live there is honestly that they don't want to be "found". They hate the way that humanity has turned out and dumbness that abounds. They might still wear homemade clothing from pieces of trees, but I'm telling you their magic is out of this world... like, actually out of this world.

The blue pieces attached to this piece are orbs of energy that will keep you grounded when using this piece. That is why they have an "Earth-like" appearance. This energy is set into this piece so that way when you use it, you will always have your mortal body to come home to. It anchors your body to the Earth. These discs that you see handing from this necklace are called star discs because they harness the powers of stellar alchemy. Each disc represents a different realm that you are able to visit when using this piece.

Okay great, so why do you want to travel to realms? Well, because each one of these ancient realms hides a secret power that you can only get by visiting it in your astral form. That is what this piece allows you to do. These powers are ancient and hidden for a reason, so I cannot tell you exactly what powers this piece hold, because of the sacred nature of where they come from. What I can tell is that I was the one that tested this piece personally and you will NOT regret buying this piece whatsoever. It's a true eye-opener and will open your mind up to powers that you never thought were possible.