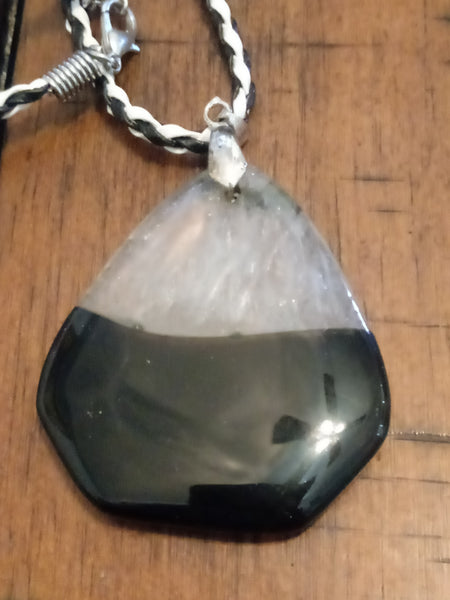 Black and White Celestial Djinn
Just so it is known, Deedee and Lindy are gone on an investigation. They will be back on 7/22/18. Shipping will resume when Lindy, our shipper, returns. Any orders that are placed between now and then will not be shipped until after she returns AND the orders that were placed while she was away will be fulfilled in the order in which they were received.
This piece has been charged with the powers of a celestial djinn.  This djinn comes from the constellation Sagittarius, but that doesn't mean he works best with Sagittarius owners, though.  It just means that he likes to dabble in both ends of the spectrum.  Before we summoned him into this piece, he was created of black and white magic.   These magics were found in both the light energy and dark energy of space in the constellation that he had been living in when we found him. 
When you use this amulet, you're summoning the presence of a light and dark djinn.  He once served on the royal court in India but was set free years ago after his servitude was over.  He was sent back to his constellation and that is where we found him.  
He will give you a supply of unlimited granted wishes.  These wishes can be dark or light in nature.  Sometimes we have djinn that are either one or the other.  They will only use white magic to grant magic or dark magic to grant magic.  This djinn will cross the threshold of either, depending on what you wish for.  One day you could wish for the djinn to heal somebody.  The next you could wish a spiritual possession upon someone else.  It doesn't matter.  You are in full control and your djinn will grant your requests for you.