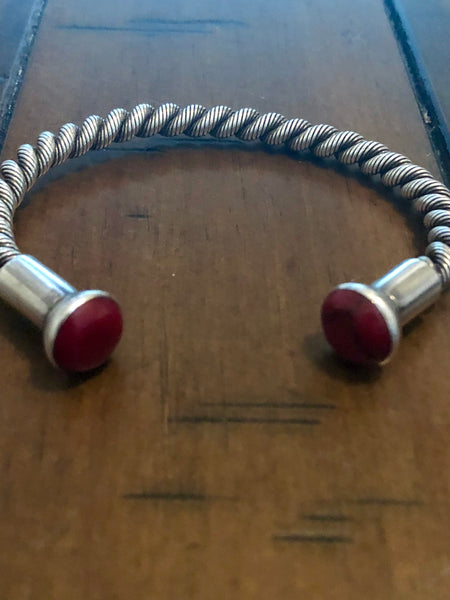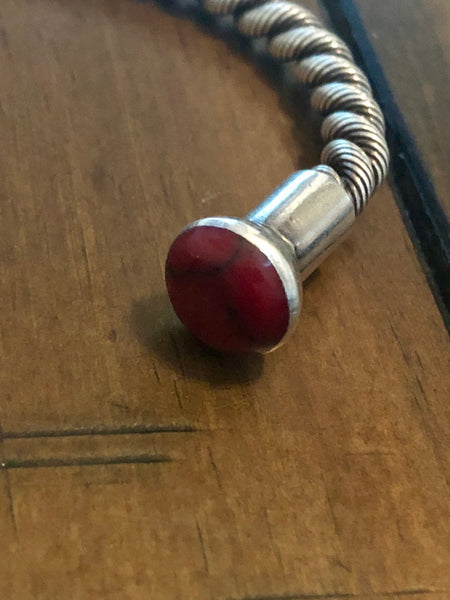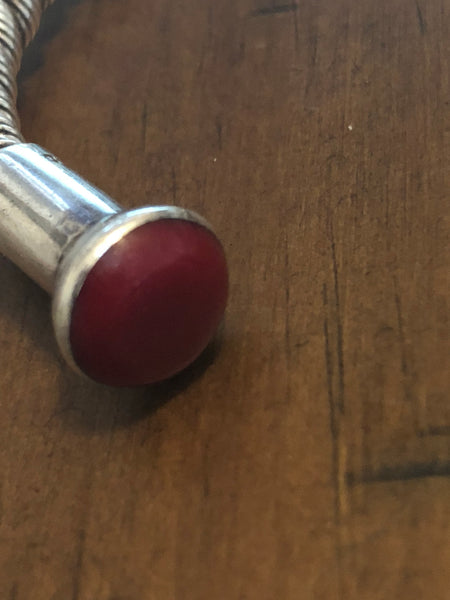 BLOOD PULSE CONNECTION ( underground auction)
Regular price
$ 20,000.00
Sale price
$ 1,200.00
---
This piece is extremely flexible and sterling silver with a real blood stone. This was made over a few years time to hold various energies from different sources.
This bracelet will fit anyone, male or female and can be worn by either sex. The way you wear it when using it is what is important. The ends that are red are worn near the pulse points so that what shows on your wrist is the sterling braided band.
What it is and how was it made?
This was made by a male witch who was born with the ability at birth to collect and hold powerful energies and supernatural ability. Later in life he was able to exactly duplicate what he could hold and then place it in a vessel.
When I traded for this piece I was given all the information directly from the maker himself.
This has traveled around the world to various graveyards and met with all kinds of people to pick up the energy and ability they held. This is the list. To find out what each person held you can do your own research or google them. The ones I know I will just add a little about them.
Marilyn Monroe- for sex appeal and stardom
Vanderbilts, Astors, Rothchilds, Goldberg and Windmiller families for wealth.
Various witches, wizards, sorcerers,psychics and healers that are alive today.
Power captured through seance and conjuring-Virgil, King Solomon,Michael Scot,Agrippa, Cosimo,La Voison, Count Saint Germain, Swedenborg, Rasputin, Hoffern, Nostodamus, Henry Percy, Benevenuto Cellini,Gyges of Lydia ( one of my favs!)
Those who he made life and physical contact with are -Eckhart Tolle, Rosaleen Norton this one belongs in the death section, Starhawk. David Bowie before death, Ray Buckland before death.
There are various other people into the hundreds that all held special ability or power that is also in this piece. He is able to conjure them up directly from the sleep of the dead as he calls it to have them transfer full power to him. He can do this because of how he was born and how he communicates with them. He does do custom pieces of whomever you want for 5,000. If you are interested in a custom piece from him just email me. Depending on who it is you are seeking it can take anywhere from two weeks to 6 weeks. This is a piece he would have sold for 20,000 but this one was placed in the auction for trade and he is well known so I was lucky. I have one more in solid gold with opals that is a charm for a necklace and that one does wealth and health along with communication. I may get to placing that one on later this week. That one will be higher priced then this one that is sterling.
The power in this piece is rare and can't be had from anywhere else. This is a piece that takes time to make and you must hold a special power to even make something like this!
When you wear this the pulse of the energy the spirits and living now have is passed on to you. You them automatically have that power and what they possessed.