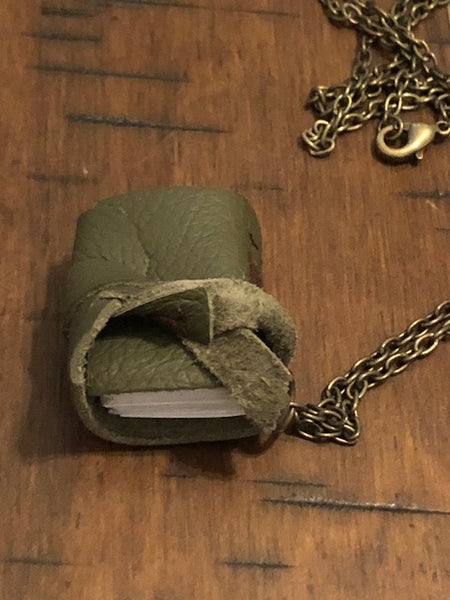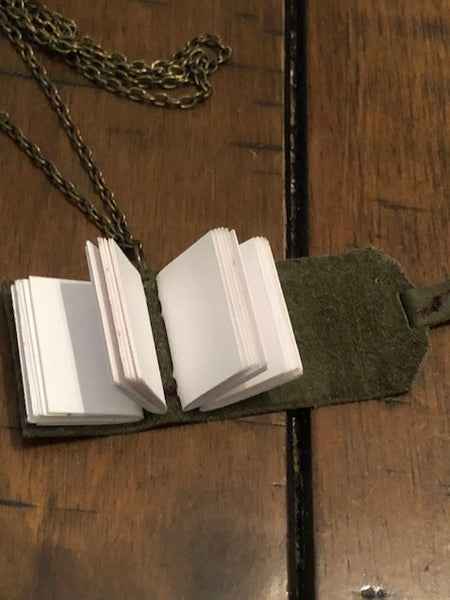 BOUND IN LEATHER AND HUNG FROM A CHAIN, THIS IS NO SIDE CHIC!
Filled with magic and plenty of pages this little darling is a superpower. This can be worn or carried by male or female and is designed to work for both.  
Coming across this one was weird because I had two and the one I use all the time. I had set this aside in case I lost the first one even though I rarely lose anything. When I got done with mine I never needed the second one anyway so you get lucky.
You don't have to keep it on the chain because all you need is the little book. 
How does this one work? 
The leather is what is enchanted along with the paper inside. You write in it all the things you want, spells you would use or destiny you want to travel down. You don't have to write it out in sentences but you can abbreviate. As long as you know what it means that is all the matters. The magical paranormal power of this piece will connect with exactly what you want as you write it down so as long as your not a head case you should be fine.
You can use this for all types of magic as none is excluded. Once you write down the different things you want, types of magic, spells, etc you are set. When you need to use some of the magic you just open the book and read it out loud the part you want.
Do not think because this is a small piece that it isn't a powerful tool in the magic box, it is! Trust me. What it can do is only limited by your imagination! 
You now have a magical Grimoire.