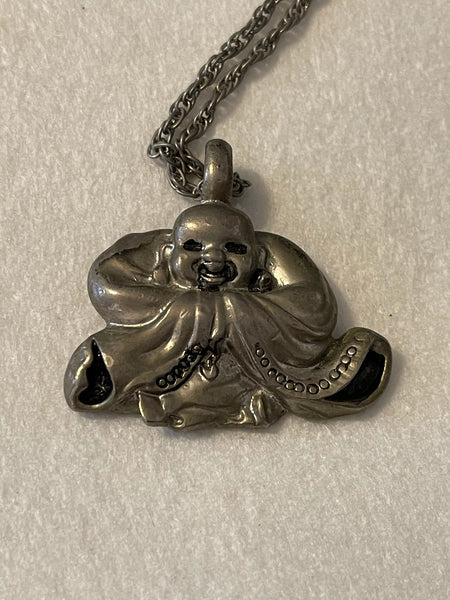 Buddha Liaison to the Eight Immortals
4-7-21

We now take several forms of payment. You can pay with your credit card through PayPal. You can also send money via PayPal to kissmecrazie@gmail.com or ask for an invoice to be sent. We also take CashApp and Venmo. When using these forms of payment you will ask for an invoice and one will be sent. We also take Zelle, which is through your bank and your bank sets the limits. when paying through Zelle you will pay using the email kissmecrazie@gmail.com. We also take cash in an envelope, but you sent it at your own risk. We are not responsible for lost or stolen cash that is sent to us that we do not receive.

--------------------------------------------------------------------------------


This is a well-used buddha pendant on a chain. The piece might be very used, but that's only because the powers within are so prolific. This buddha has a telepathic connection that allows him to act as a spiritual liaison to a group of deities known as the Eight Immortals. I'm not going to go down the list of all 8 of them, but they aren't hard to find when doing an internet search. These Eight immortals grant things such as wealth, happiness, longevity, good health, beauty, harmony and balance, spiritual communication, healing, psychic awakening, good fortune, luck protection, wisdom, and other abilities.