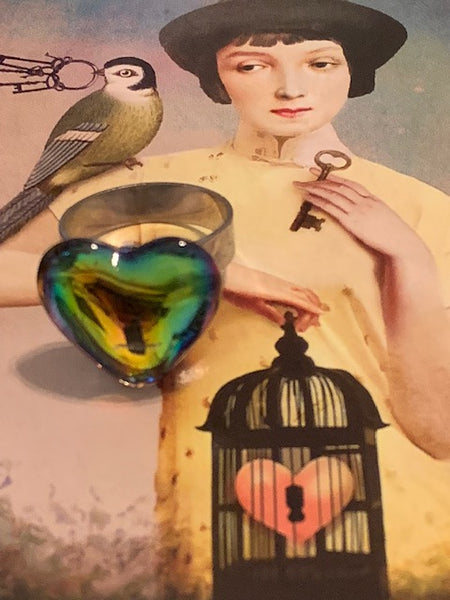 Caged Heart
To all buyers, new and old, please make sure that you are fully aware of our shipping policy. I would say "new" shipping policy, but this has been in full effect for months now. If you are unfamiliar with our shipping policy, please take a moment to familiarize yourself with it. Here is a link: https://youtu.be/y8uA4M7ijVk

Part of Today I will be offering all costume pieces. These ones have been done differently, because we have created an energy to put into them that will allow the powers that we have put into them to be placed into a different piece, using a charging box. We did this for two reasons-- 1.) If you don't feel like wearing costume and you'd rather have this power in sterling or gold, you can create it. 2.) To make them more affordable. Remember, the 2018 Christmas sale ends in 6 days-- use code "xmas18" at checkout for 50% off this item until 01/01/19.

This piece is called caged love. If there is a person that you have been trying to get to notice you, but they just haven't been taking the subtle hints and clues then this piece is for you. This piece holds what is called a Lifetime Love Spell. What this means is that you will be able to cage up the person's heart for your lifetime. This means that this particular person's heart will belong to you and you alone and it will belong to you for the entirety of their of your life. This means that if the other person dies before you do, then you will also own their soul as it exists in the astral realms after they crossover into the astral life. You will still be able to summon them any time you wish, for sex in spiritual form, or just for companionship. This really lets you keep the essence of the one you love in a cage like a bird. When you die, this bondage will come to an end, hence the term Lifetime Love Spell.