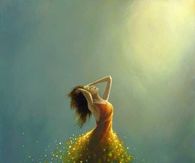 CLEARING, HEALING AND MAGIC
What I have to offer today is exceptional! These are not a lot of money but they pack one heck of a paranormal and healthy punch! You will get two tea lights. While this doesn't sound like a lot let me tell you about them and all they can do.
First about the tea light itself and what it is made of.
These are made of American grown Soy beans.
Pet friendly and lead free
No foreign oil or other products
Asthma and allergy free!!!
No harmful dyes and 100 percent soy, not a blend.
Best of all these can be used as a lotion! These have 100 percent fixed Psoriasis and other skin conditions, itchy,etc. To use in this way just light your candle and let it burn a little and then allow ir to cool and rub it on the areas you need it. The only one you can't use as a lotion is the one with Cinnamon in it. Although I wonder if you had joint pain if it would help. I have not tested the Cinnamon one so I would not do it as it has not been tested. This candle and lotion are amazing for lotion.
What else is there about this product?
This will also clear your home of all negativity when you light it. This will include those nasties that like to wander in with out your permission. However this will not clear anything that belongs to you or anything you wish to keep. There is no need for you to say what you want or don't want. This makes the process very easy for you. The magic in the candle just knows!
These tea lights will also activate your items with out using other methods when they are placed by the candle. I have designed them this way.
These tea lights will also increase the power of your items when placed by the lit candle.
Areas of your body that are in need of help or even just dry you should use these on. You will be amazed at what they can do and wonder why you haven't used them before!
Get yours now and free shipping unless out of the country. Contact me for shipping if not in the U.S.
You will get two tea lights. If you fall in love with them let me know and a bigger jar size cn be done for you.
The scents available right now are
Angel Wings
Beach walk
Black cherry blast
Black Sea
Brandied pear
Caribbean Teakwood
Cedarwood vanilla
Christmas Hearth
Clean Cotton
Coconut Lime Verbena
Cool Citrus Basil
Cotton Candy
Creamy Coconut
Cucumber Melon
Dozen Red Roses
Dragons Blood
Driftwood
Egyptian Amber
Elf's Breath
English Garden
Fireside
Frankincense and Myrrh
Fruit Slices
Fuzzy Peach
Gardenia
Golden Rose
Headache Relief
Heavenly Honeysuckle
Himalayan Bamboo
Honeydew Melon
Honeysuckle and Jasmine
Hydranga
Kickin Kiwi
Lemon Lush
Lilac
Love spell
Meadow
Mediterranean Fig
Mimosa and Mandarin
Moonlake Musk
Nag Champa
Need a Pina Colada
Oak Moss and Amber
Ocean Mist
Orange and Chilli Pepper
Pink Sugar
Plumberry
Rainy day
Raspberry Sangria
Sea Salt and Orchid
Sex on the Beach
Sexy Man
Stress Relief
Sun and Sand
Take Me Away
Violet Lime
Wicked Watermelon
Please let me know which one you want in your notes.