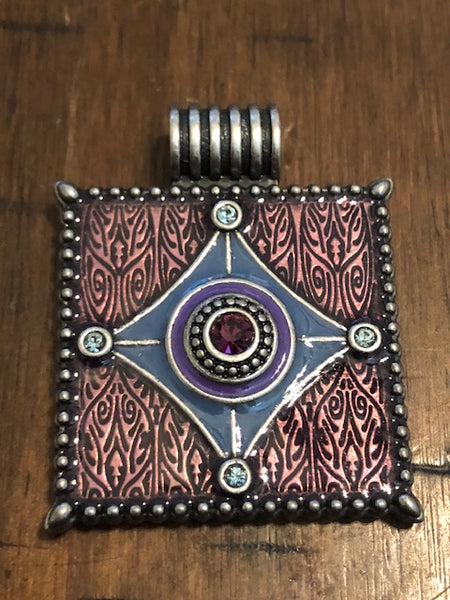 Compass Grimoire
PLEASE BE SURE TO VIEW OUR UPDATED SHIPPING POLICY. IF YOU CHOOSE NOT TO, WE ARE NOT RESPONSIBLE FOR ANY RESULTING DIFFICULTIES OR INCONVENIENCES.

https://youtu.be/y8uA4M7ijVk
This piece holds the flames of the North, East, South, and West.  It was made an immortal witch.  She one of the ones that we call the Ageless Ones.  They take bodies to obtain their immortality and they are reborn like the Phoenix into endless lifecycles.  That's not what we are here to discuss, though. 
This piece has been made by one of the Ageless Ones.  This piece holds a magic like a vortex.  Each of the points on the pendant represents a cardinal direction-N,S,E, and W.  The stone in the middle represents what is called the Witch's Eye.  This eye sees all magic associated with witchcraft.  It creates a vortex that pulls all of this magic into the piece for the person who wears.  It creates a spiritual grimoire full of the magic of thousands of witches.  As such, you will be able to use this piece to cast any spell that you want.  
There is no writing or anything like that involved with this piece.  You will simply wear the piece and state your intentions out loud.  The eye will search through all the magic that is has gathered for you and will cast your spell accordingly.  This a power that the great witch of Endor used.  It is a power that was used by the Salem Witches.  It is also a power that you will now be able to use.  Happy Casting.