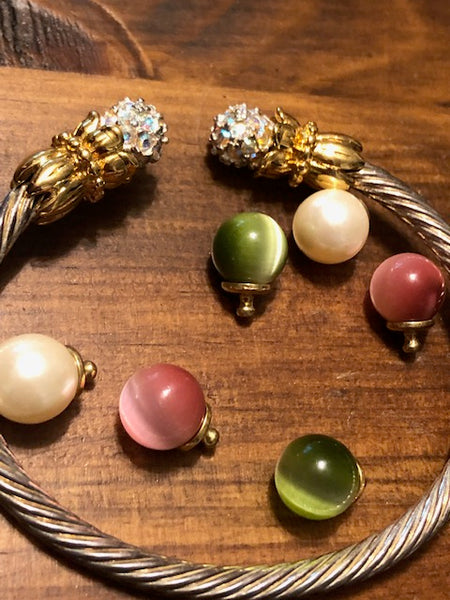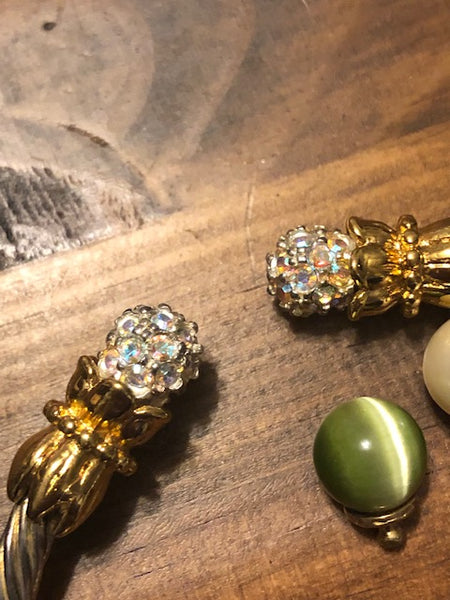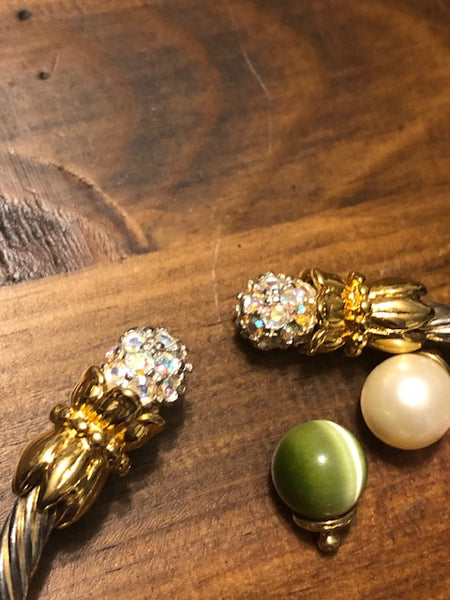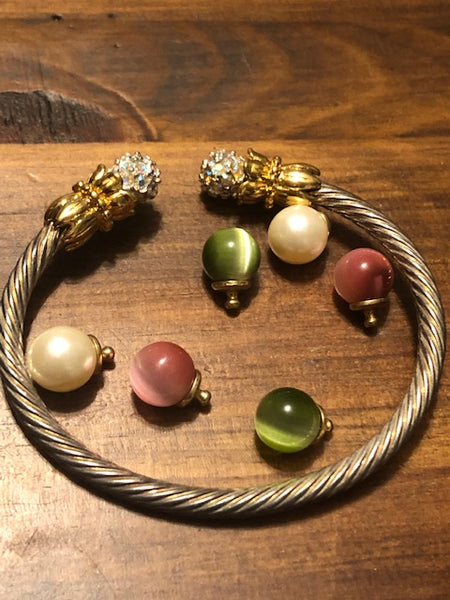 Costume Bracelet with Interchangeable Balls, Four Powers of the Druids
THIS PIECE IS A BANGLE BRACELET UPON WHICH HAS BEEN IMPARTED THE MAGIC AND SORCERY OF AN IMMORTAL SORCERER. THE METAPHYSICAL PROPERTIES ALLOW THE USER TO ACCESS THE MAGIC THAT HAS BEEN STORED UP IN THE INTERCHANGEABLE SORCERERS BALLS THAT COME WITH THE PIECE. EACH OF THEM GRANT THEIR OWN POWER!! READ BELOW.

This piece was created by an immortal sorcerer using the magic of the ancient druids. He had to use another piece that he created for himself to travel back in time because he isn't nearly as old as the druids are. However, he was successfully able to work with the druids in order to create this bracelet. You'll be surprised how willing the druids are to share most of their magic. Some of it, like aged whiskey, is kept in the private stock, but generally speaking, they will share with you most of the stuff you want to know.

Anyway, this piece was created with the knowledge and power of an ancient druid called Seamus. It is a bracelet that contains a series of snap balls that you can wear interchangeably. Simply take the prior set off the ends of the bracelet and snap a new set in. The only set of balls that will not work are the pink ones. This is not tos ay that you can't still use their magic. They just won't snap-in. You can either have them repaired OR when using their magic, simply wear the bracelet with none of the other ball snaps and wear the pink balls in your pocket. The power will correlate. We tested like this and all was fine.

Each set of mystical sorcery balls holds a different power as granted by Seamus. The green pair grants ancient Druidic wealth. The white set of balls will grant full known over white light magic, with the ability to grant your own white light spells. The pink pair of balls grants the ability to conjure any type of entity that you want from a Solomonic Djinn to an Avalonian Fairy. The set of balls that are shown on the bracelet in the picture are to grant 3rd Eye-Opening and full psychic ability, which includes such powers as telepathic communication, moving things with the mind, reading other's mind, astral traveling, time-bending, and others that you will discover on your journey.

Instructions-- you will simply meditate with this piece. You will wear the colored balls that correlate to what you are asking for. You will then meditate upon what you wish to accomplish. Seamus will hear what you are asking for and will make a bond with you through which your request will be granted.