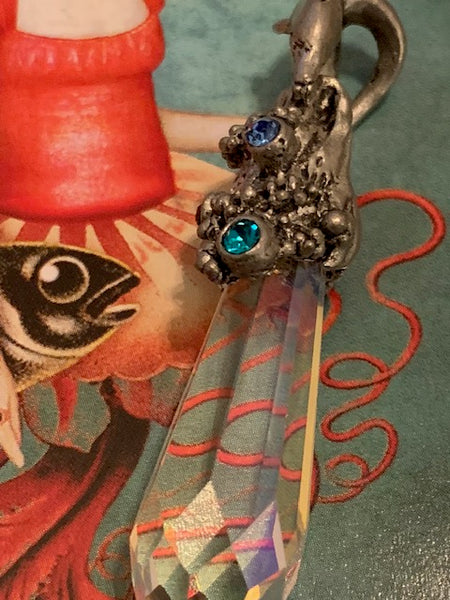 Custom Conjured Mermaid Wealth, Plus Extras
SOME OF THE ITEMS THAT WE SELL ARE MISSING STONES, HAVE SCRATCHES, ETC. THIS ISN'T EVERY PIECE. IN FACT, IT IS VERY FEW PIECES. IF THIS IS THE CASE IT IS BECAUSE WE GOT THEM THAT WAY, BECAUSE THEY ARE OLD, OR BECAUSE THEY HAVE A LITTLE BIT OF WEAR DUE TO TESTING. WE HAVE TO HANDLE AND TEST ALL THE PIECES THAT WE SELL TO MAKE SURE THAT THEY WORK PROPERLY AS PER THE DESCRIPTION. MANY OF THE ITEMS WE OFFER ARE VERY OLD, ARE ANTIQUE, ETC. SOME OF THE ITEMS REFLECT THAT WEAR. THIS DOES NOT MEAN THAT YOUR ITEM IS LESS POWERFUL OR WILL NOT WORK WHEN YOU GET IT MAILED TO YOU. THESE PIECES ARE FEW AND FAR BETWEEN ANYWAY. WE JUST WANTED ALL BUYERS TO BE AWARE OF THIS BEFORE THEY PURCHASE.

Also, Before making a purchase, please make sure you read and are familiar with our shipping policy: https://youtu.be/y8uA4M7ijVk

If wealth is what you need, then this piece is a perfect match for you. We created this piece by doing a custom conjuring during which we invoked the spirit of a mermaid that has remained in this piece. Yes, this piece is a spirited item, but I doubt that you will see the mermaid that has been set inside, simply because of the fact that she needs water to manifest-- and lots of it. In fact, she will even need water in order to be activated, but more on that in a bit.

This mermaid is one of the original daughters of Poseidon, who created mermaids when he spilled his seed into the ocean during a sexual romp with one of the goddesses. As such, she possesses a crazy amount of power that, in addition to the wealth she brings for you, she will share with you. To begin with, she will open up your third eye to give you a psychic ability. This way, you are able to connect with her more easily.

When you will get this piece you will draw yourself a nice, hot bath or take a nice cool dip in the pool, or utilize whatever water resources you have available. However, this piece must be touching your damp skin in order for it to be fully activated. Once activated, you will first receive the psychic awakening that I have told you about. Then, you will connect with your mermaid. That is when the wealth will begin to pour in. You don't have to worry about telling the mermaid what kind of wealth you want or need. She will be able to read it in the connection that you guys create. She will deliver wealth to you in all areas of your life that are in need

In addition to the wealth, she also offers healing and protection, plus the psychic awakening that she is already giving you. All in all, this is a pretty powerful little piece, while still being simple to use and extremely affordable!