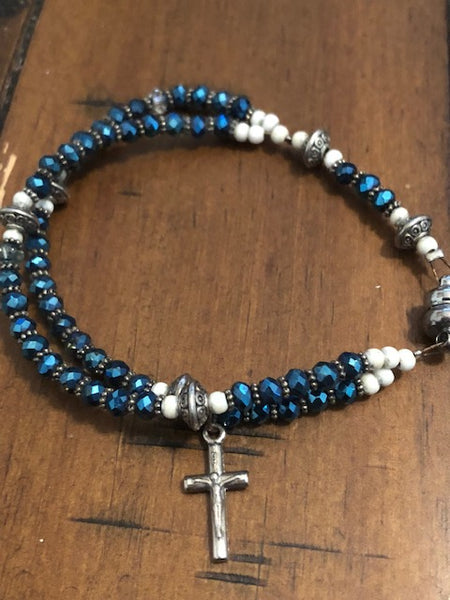 Divine Blue
PLEASE BE SURE TO VIEW OUR UPDATED SHIPPING POLICY. IF YOU CHOOSE NOT TO, WE ARE NOT RESPONSIBLE FOR ANY RESULTING DIFFICULTIES OR INCONVENIENCES.

https://youtu.be/y8uA4M7ijVk
 A while back, on Youtube, Deedee told the world about how she was able to travel to the Vatican Secret Archives.  At that time we put out a piece that was super powerful.  We have waited to release this one because we were still working with it.  It is also very powerful and this is because it has been touched to the original staff of Moses.  To this day it is kept it the hidden Vatican Archives. 
Usually, when we make pieces like these they need to be able to sit in the room with the artifact for a few days or something along those lines.  However, the Rod of Moses is so powerful, a mere touch to it and this piece was able to pick up its divine powers.  We were going to offer this one a while back, but we just wanted to make sure that we could finetune our own experiences with it before we pass it on to the next person that way we could properly answer any questions that you have. 
This piece holds wondrous powers  To begin with, it allows you to slive through the veil that keeps you apart from God.  Using this piece you will be able to astral travel to Heaven at any point that you want to.  There is no time in Heaven and most of the entities don't sleep because that's a human thing.  You can wear this piece and be transported to a Heaven in the astral form where you will be able to attend the many different mystery schools that will teach you holy occult white light sourcing.  You will also gain the ability to summon angels and control their powers.  As if this wasn't enough, you also will gain the miracle-granting ability that was afforded to him through the staff that he carried-- the same one that allowed life-giving water to spring forth from a rock!!