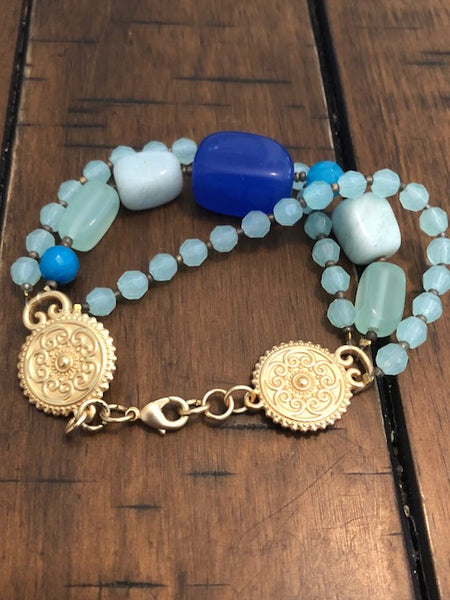 Double Powered Ifrit Djinn
Okay, so this piece holds a djinn that is going to give you two powers for the price of one.  To begin with, this is originally one of the Temple Djinn who served Rehoboam, not Solomon.  Rehoboam was also a very powerful ruler who really doesn't get enough credit.  Anyway, he created this entity using the magic that was given to him by his father, Solomon.  He used this magic to rule for seventeen long years.  As a side note, I'd also like to point out that he had 18 wives and 60 concubines.  Not that this piece will do that for you.  I'm just saying he was doing something right! 
This very special djinn was created, but when he was he developed an anomaly power that gives his master a second power.  We have stuck him in this vessel.  He is held in the large, dark blue bead.  The first power is that he will obviously grant all wishes that his owner has.  This is the basic duty of most djinn.  The second power that he gives his master is the ability to both hear and grant the wishes of others.  This is a rare ability, but it is given to those who use this Djinn.  
Now, this doesn't mean that you have to grant those wishes that you hear.  You will hear them.  Then, you will be able to use your discretion as to whether you want to grant them or not.  It's that simple, but it really gives you a great power over the people around you, right down to determining the outcome of their destiny and eventual life.