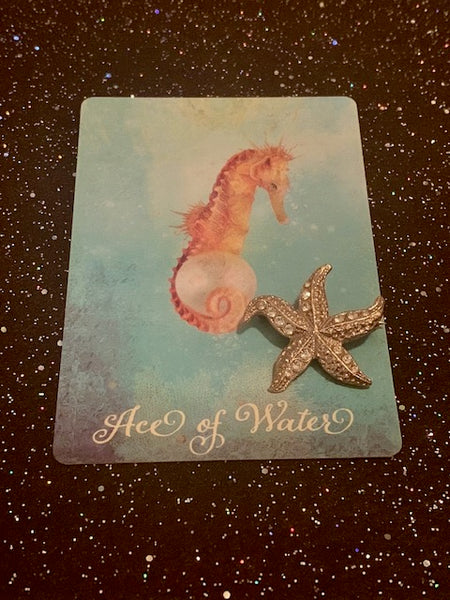 Doubled Down Water Nymph
Hello shoppers!!!

From January 1st, 2019 until February 15th, 2019 there will be no shipping. We are moving to a bigger office. If you have stuff on the books now it will be shipped! If you order again and have an existing order on the books Lindy will combine it into one package, possibly. If you are ordering now it will be saved for you and will be shipped when I'm back. I have the underground auction, investigations, and customers to see. During that time Lindy will be moving offices. You are free to purchase but it will not be shipped until starting the 15th of February. Under no circumstance will anything be shipped in that time. If you can't wait, don't buy. I repeat for those who will ask me to explain this if you can't wait don't buy! As I get unique items I will show them through email and ship them from where I'm at. Thank you for your understanding.

This piece is spirited and holds the soul presence of a water nymph. This water nymph is unique in that is has the ability transmute from its true self into the form of whatever type of aquatic being it chooses to take. When we first found this nymph it was in the form of a starfish. This starfish washed up but was still alive. In her own form she is merely a soul presence, but while the starfish was still alive we wanted to find another vessel to conjure her into that way we wouldn't lose her. This is what we ended up finding-- a starfish pin to pay homage to the form that we found her in. I have no idea why she was in this form, washed up on a beach when there are literally 1,000 different forms she could have taken. Either way, this pin is spirited with her presence, but she most likely will not show herself to you. It's just not in her nature.

However, what she will grant you is the following-- 1.) She will grant you extreme wealth. I mean she is a water nymph and nymph are typically know for two things-- their sex and their wealth. This nymph is very well known for her wealth and you will come to find this out as she provides that same wealth to you. This will bring wealth from many different places and will affect all areas of your life. The only thing you have to do to experience this power is to wear this piece. The rest is done for you. 2.) She has the ability to grant wishes. This is the same granting powers that you would typically see on a dinn. All you have to do while wearing this piece is call out the wish that you would like granted and the chances are that she will grant it for you-- unless you are calling something that she can't do or won't do ike immortality or causing people pain and anguish.