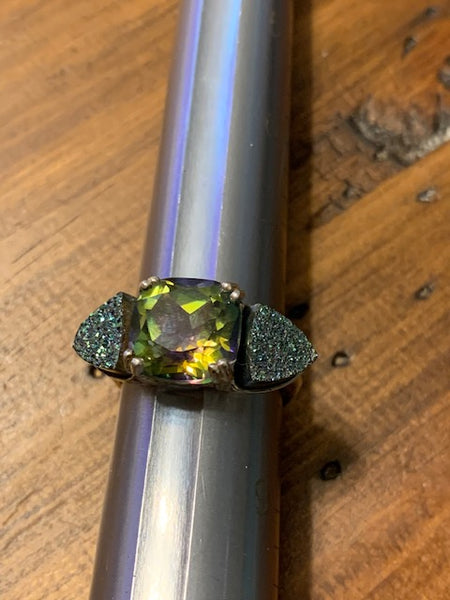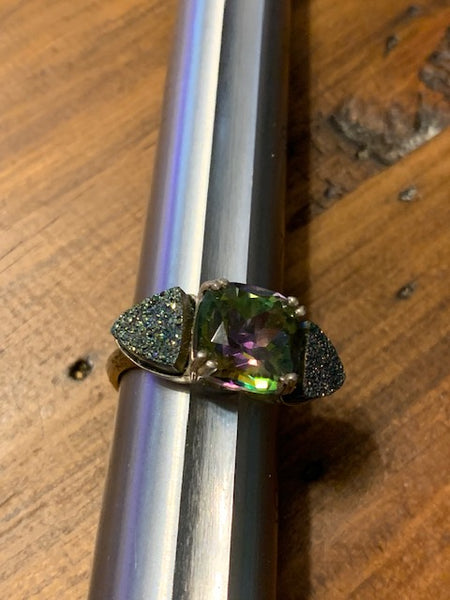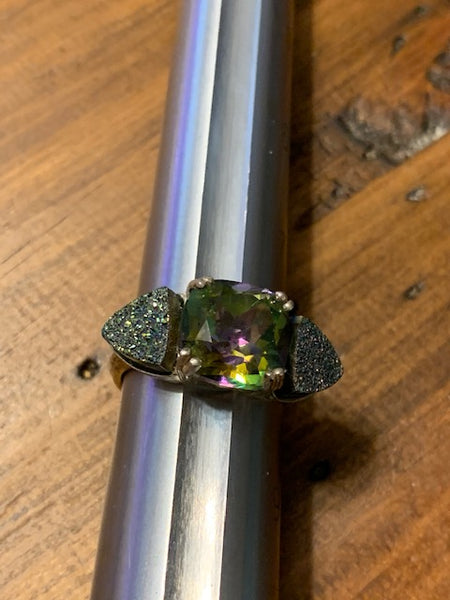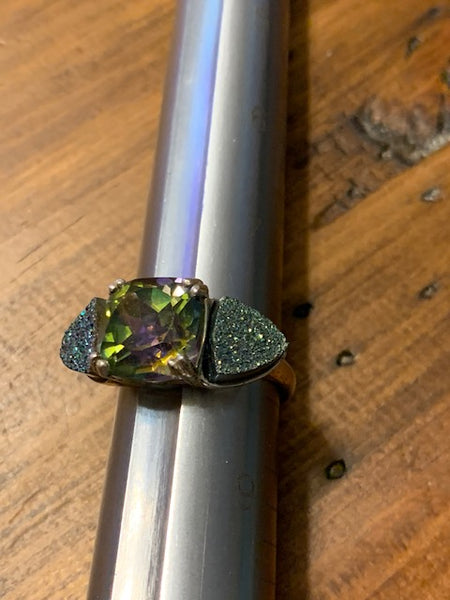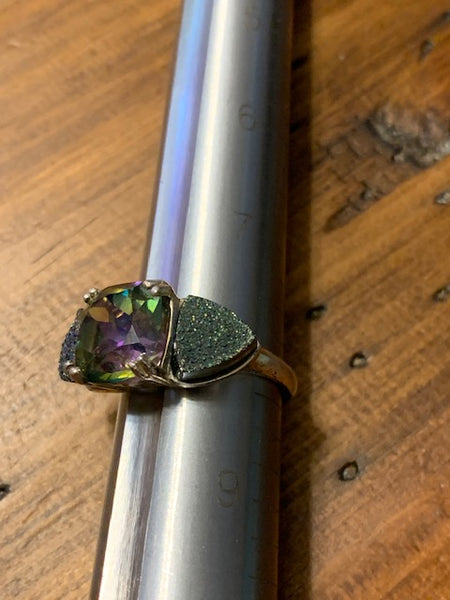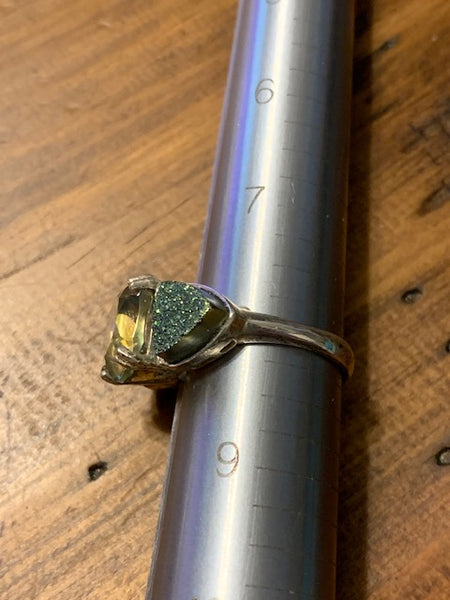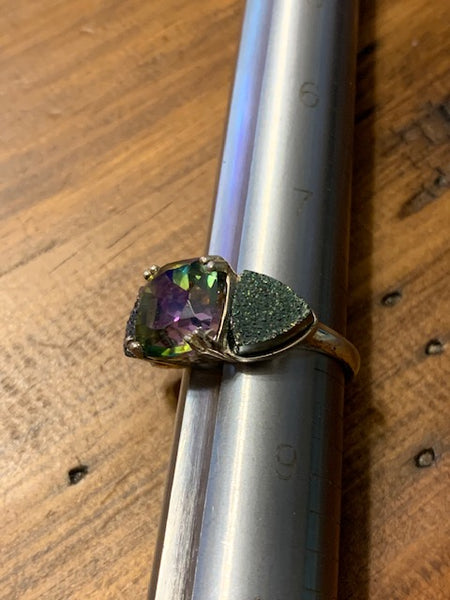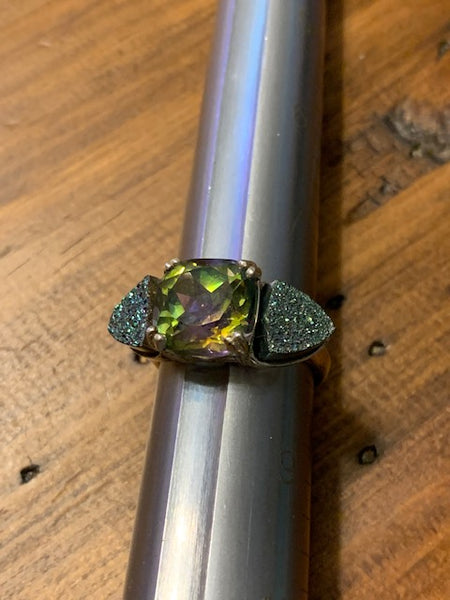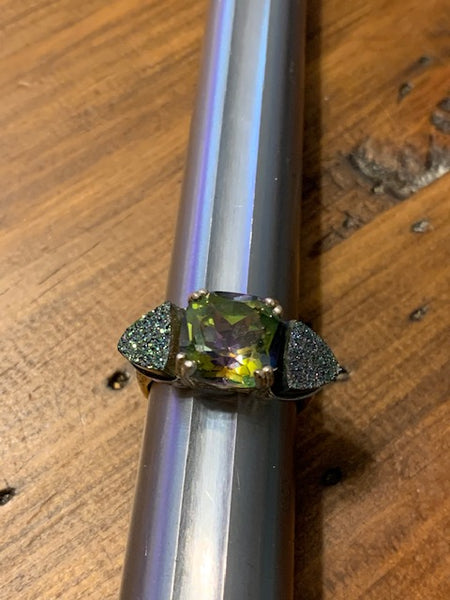 Size 8 Sterling Silver Ring w/Gorgeous Green Stone and Forest Green Druzies-- Egyptus Occulus: Pyramid Triad of Wealth
This is for those of you who are after wealth, but only those of you who are after an extreme, one-of-a-kind, never before experienced wealth. That is because the wealth that this piece boasts has come from a very ancient, very mystical place. The piece was curated by a secret society that was developed by the American Government. They call it the Occulus Egyptus.

If you have been with us for a while, then you will remember that we have often spoken of a mind-control program that has been undertaken by the American government called MK ULTRA. The project was undertaken in a secret confine beneath the ground on Montauk Island. In these confines were mind control chambers where the government conducted the kind of experiments that were made for nightmares. FOrm Nazi army generals were brought in to share their knowledge of the experiments that were being done in Germany during WWII. That's how serious this place was. Oculus Egyptus is an extension of MK ULTRA.

Occulus Egyptus is a mind control program under which the government has essentially kidnapped individuals with superior psychic ability. If you think that all those answers on the IQ Tests and School Educational Tests for purposes of measuring your IQ or education, you are wrong. I don't know how they do it, but somehow these standardized tests, as well as other things such as those genealogy kits, allow the government to examine who was born with abilities and who was not. They then determine worth bases on a scale and the top 3% of those who were born with abilities are either kidnapped or their parents are offered compensation for their child if they forfeit them to the government. I know that it sounds sinister, but I'm not the one doing it and I can't control what happens.

The psychics then undergo intense mental re-conditioning. They are stripped of their prior memories, given a brand-new identity, and made to be loyal to the government via keywords and hand gestures. They are told that the government is the enterprise that has granted them their psychic abilities and that they were created specifically for the government's instruction. It's sad because these people actually believe. If you try to tell then any different, they blow you off and scoff at you. Trust me, we've tried before. These people are turned into controlled and closely monitored psychic operatives.

Occulus Egyptus exists for one reason and one reason alone. This is to tap into the energies and the powers of the pyramids of Egypt. They don't bother with other pyramids and they certainly don't bother with lesser entities. They only explore the Egyptian pyramids and mostly just the three in Giza. Occasionally they will explore other newfound pyramids, but they are dedicated to deciphering the ancient magic and energies of the three Great Pyramids of Giza. Their psychic abilities are honed in to be able to travel to the Pyramids in astral form, where they use their psychic abilities to connect to the pyramid. Their mission is to find hidden chambers, new powers, and magic that have never been found before.

The Co-op, as they are sometimes referred to have been instrumental in finding many things in the pyramids. They have been dressed up and charaded as an archaeologist, geologists, Egyptologists, researchers, examiners, etc. They have been put to work and they have produced results. The results are the harvesting and mining of pure energy and magic. One of these forms of magic is called the Egyptian Triad of Wealth. This is a triple powerful of wealth that comes from the hidden chambers that were discovered by Occulus Egyptus a while back. The chamber has been created in such a way that allows wealth powers and energies from through the universe to radiate into it via its alignment not only with constellations and planets in our galaxy but with the entire universe. It is connected to all other pyramids and through this connection, wealth is allocated from across the universe to the pyramids on Earth.

This ring is called the Triad of Wealth ring because it holds three distinctive stones. Each of these stones has been taken from what Occulus Egyptus now calls the Chamber of Pyramid Wealth. These stones have been refined and shaped to fit this ring. There are all sorts of stones and other precious materials that can be found in the Chamber of Egyptian Wealth, but this ring holds the two most powerful. This ring is not only powerful, but it is gorgeous. In the center of the ring is a beautiful green stone. This gorgeous green stone shines forth with fleck and bursts of power colored in gold, red. blue, purple, and other colors. You can see the power moving through this stone when you turn it, especially when you hold it up to the light. It is prismatic and is really one of a kind. Flanked on either the left or right side of the center stones are two deep forest green, beautiful pyramid-shaped druzies.  The band is sterling silver.  Together this triad of wealth bearing stones grants one of these most prolific sources of wealth that we have ever experienced.

Like I said this piece is both stunning in appearance and powerful in the wealth magic that grants you. Rumor has it that this piece was created upon request by Warren Buffet as a gift for his friend, Michael Bloomberg. It is also rumored the Jeff Bezos (you know, that Amazon guy worth $108 Billion-- with a B) also used this piece while he was creating Amazon. Zuckerberg and Facebook? Same thing. Look, I could go over a list of people-- billionaires-- who have supposedly used this piece. These are mostly rumors that we have been able to find in the supernatural community, but given the appetite for wealth and magic that the wealthy elite secretly (sometimes not so secretly) crave, it's not so far-fetched that they turned to the magic in this piece. What we know FOR CERTAIN, is that this piece works wonders. It grants a miraculous level of wealth or those who use it. I'd ask the person who tested this piece to make a statement, but she is currently enjoying the private island that she bought off the coast of Brazil. Do not miss your chance to own this ring. IT's wealth powers are phenomenal.