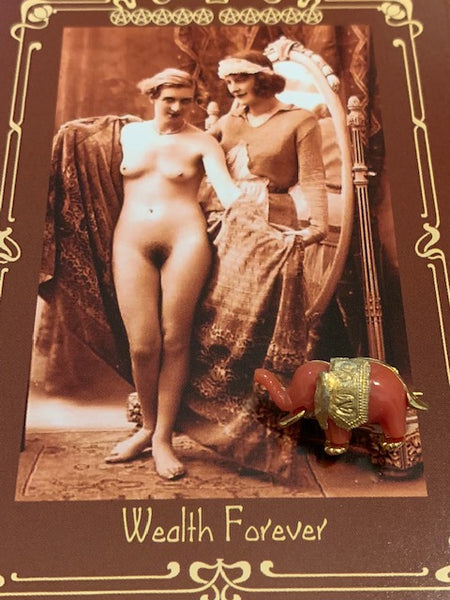 Feng Shui Elephant For Wealth
Before buying, please be sure that you view and are aware of our Shipping Policy-- https://youtu.be/y8uA4M7ijVk

If you are a little bit down on your luck, then this is the piece that you need. This piece has been made by a group of monks from Tibet using the ancient principles of feng shui. In Feng Shui tradition the energies o elephants have been known not only as symbols of good luck but also as divine symbols of wealth. Having an elephant in the home, with their trunks turned in is an ancient practice that utilizes the elephant's energies to bring wealth into the home. Similarly, when you wear this pin it is going to attract wealth. It doesn't attract wealth to the home. Instead, it will attract wealth to you wherever you go. This wealth will stay with you and will follow you as long as you are wearing the piece. It allows you to be wealthy in anything that you do. It doesn't matter what you are doing, this piece will find a way to either gain money for you or to save you money. For instance, if you wear this piece to the casino you are going to come out with massive earnings. If you wear this piece while at a court hearing, it will help you win your settlement. Likewise, if you wear this piece while shopping, it will somehow help you save money, whether they store you are shopping at selects you as a winner to save 50% OFF or if somebody offers you a special coupon. This piece is all about the acquisition of new money and saving the money that you already have. The ancient Feng Shui powers that it holds back it up!