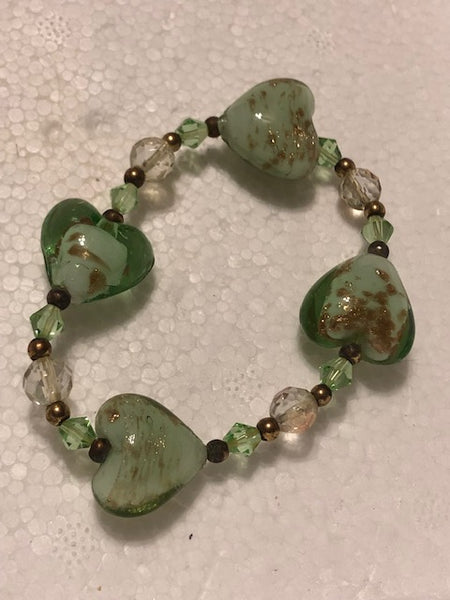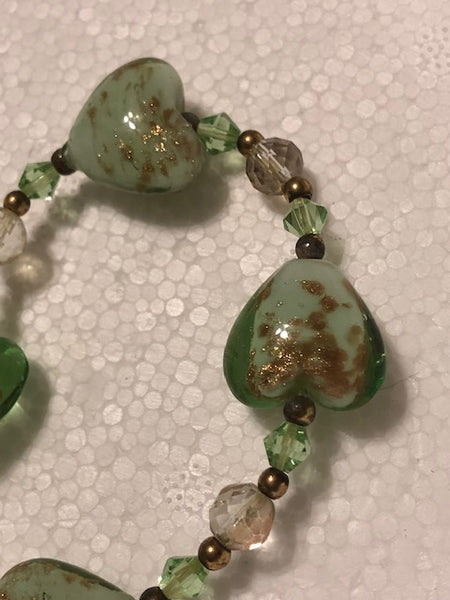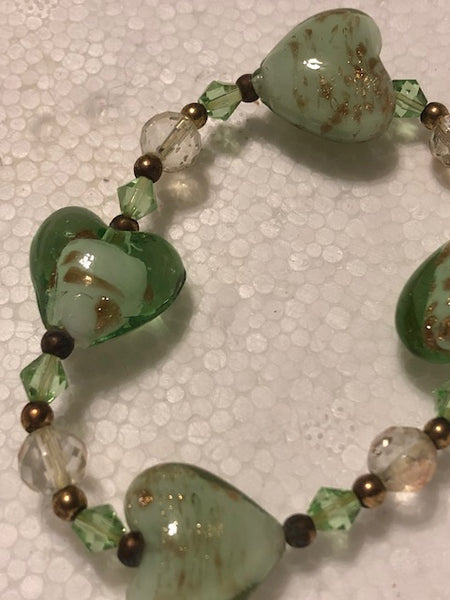 Four Points of Wealth for Relationships, Green Glass Heart Bead Bracelet
This piece is called four points of wealth for relationships because it has been infused with four different wealth spells. These wealth spells are specifically geared toward those people who are in a relationship, married, etc. Sorry, this piece is not for "all the single ladies", or men for that matter. It will only work for you if you are in a committed relationship. You will not be able to cheat the piece and use it anyway, because it will pick up your energies during the bonding process. I don't know why you want to do that anyway when we have plenty of wealth items for people who aren't in a relationship. It seems counterproductive. I mean, you could buy it and wait for a relationship, I supposed.

Either way, there are four wealth spells that have been infused into this piece. When you wear the piece the energies from your body will automatically cast the spells for you and they will begin working in your life. Here are the four spells that you will get. They were each cast into one of the four green heart beads that make up this bracelet.


1.) Wealth in Finances-- meaning you will conquer the art of saving as a couple and investing as a couple. Returns on your investments will be huge!!

2.) Wealth in Business-- this works to strengthen a business that you and your partner run together or to gain the wealth necessary for that business to begin.

3.) Communication in Wealth-- this is a spell that is cast so that way you and your partner are on the same page as far as what money needs to be spent where and what money needs to be saved. The leading cause of divorce is financial disagreements and fights over money. Don't suffer from this malady when this spell is cast for you.

4.) Wealth By Luck-- This is very easy to understand. This will bless your relationships with all kinds of luck that will result in wealth. Think publisher's clearinghouse, gambling together at the casino, playing the lottery together, being selected and winning on gameshows, etc.

THE INSTRUCTIONS FOR THIS PIECE ARE QUITE SIMPLE. WEAR IT. THAT'S ALL YOU HAVE TO DO AND THE ENERGIES WILL BEGIN TO WORK THEIR WAY INTO YOUR LIFE. THE PIECE YOU ARE GETTING IS A GREEN GLASS BRACELET WITH HEART BEADS.