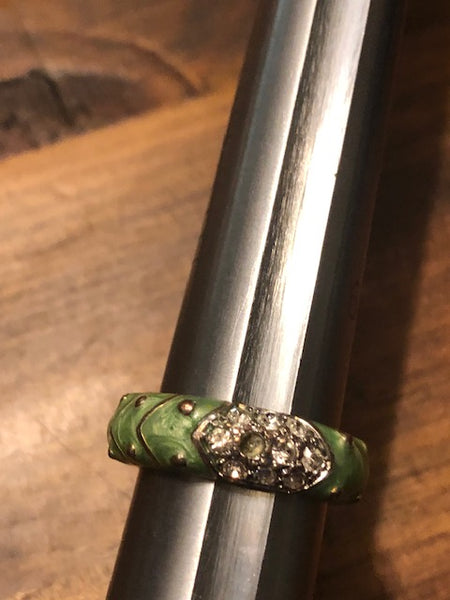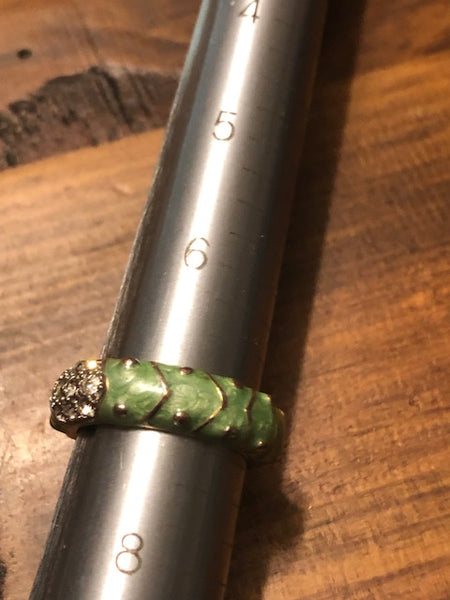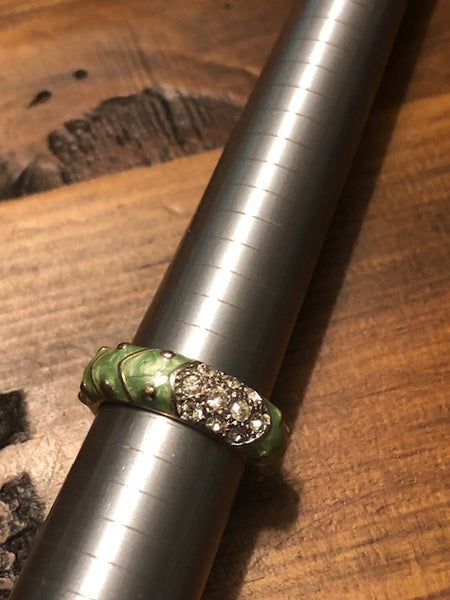 Green Costume Ring, Druidic Wealth Ring
To begin with, this stone might have a missing stone.  We're not sure if that is the way the ring was made or if the stone is missing, but it doesn't really matter.  If the stone is missing, it does not affect the power that is in this ring, as it has been tested and it works splendidly.  Sometimes stones go missing when a piece is powerful and sometimes they go missing if the piece grants good results and is used continuously, tested continuously, etc.  If anything this is a good omen.  

The description of this piece is very simple.  It holds a spell that was placed into it by an ageless sorcerer named McKale.  As his name might suggest, he favored the ancient ways of the druids and this is the type of power has been situated into this ring.  The magic itself brings visions of wealth to the person who wears it.  What is meant by this?  When you wear this piece either in meditation or sleep, the piece will bring you visions of what you need to do to be successful and wealthy.  These visions will correspond to what you have asked the piece to show (more on that in the instructions).  Not only will this piece show you what your next steps must be in order to acquire that massive wealth you are after, but it will completely remove any and all obstacles that are in your way of getting there, clearing the road for you to become what you want to become and to enjoy the luxurious lifestyle you've always wanted.  

Instructions:  You will light a candle.  While wearing this piece you will right down the path that you wish to take in order to become wealthy and successful.  For instance, if you want to be a famous movie director that is what you would write.  You will then fold up your paper and burn this paper by the flame of that same candle.  This will send the request to the powers that be and the visions will begin.  Make sure you are wearing your piece while meditating or sleeping (if you want to receive the visions as a dream). 
THE PIECE YOU ARE PURCHASING IS A GREEN COSTUME RING.  THIS IS A HIGHLY METAPHYSICAL AND VERY POWERFUL PIECE OF HAUNTED JEWELRY.