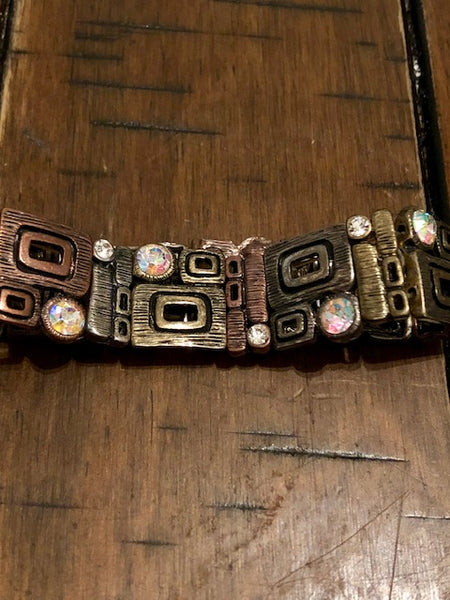 Hidden Meanings and Magic in Art
PLEASE BE SURE TO VIEW OUR UPDATED SHIPPING POLICY. IF YOU CHOOSE NOT TO, WE ARE NOT RESPONSIBLE FOR ANY RESULTING DIFFICULTIES OR INCONVENIENCES.
https://youtu.be/y8uA4M7ijVk
When you look at this piece what do you see?  A few squares, some other shapes? Well, I'll tell you what I see.  I see abstract art. I see a bracelet. At face value the untrained eye would not know that it is anything other than a regular bracelet, However, to those who can actually catch the energy and vibes from the bracelet, they'd be able to tell in an instant there is more going on.  

Such is the case with many Medieval works of art.  Michaelangelo, Davinci, and many other famed artists of the times created beautiful works of art that are celebrated to this very day.  If you didn't have a trained eye, you wouldn't know that these works of art hold deep-rooted mysteries and the secrets to ancient forms of magic.  You wouldn't know that these artists belonged to secret societies such as the Knights of the Rosy Cross and The Freemason. Some even belonged to the Illuminati.

Since magic was strictly prohibited in that day, these members of secret societies needed an outlet and a way to communicate with their other members.  They worked secret codes into their artwork and it wasn't just visual art, either. Composers, poets, artists, dancers they all had secret codes they would work into their artforms to communicate the secrets of the magic that they practice.  This piece gives you a Masonic awakening that gives you the magic that is in these works of art.

When you are wearing this piece you will be able to instantly connect to any and all magic that is held within a piece of art, whether it is the original or a replication.  Again, some of these magics are Freemason, some are Illuminati, some could be ancient Egyptian, still, some could be witchcraft. It all depends on the art that you are working with and the person who created it.  You could use this piece with paintings, sculptures, symphonies, whatever is considered a work of art. You'd be surprised what you can pick up on when watching the AMAs, the VMAs or the Grammys. Either way, the magic in this piece opens your eyes to a whole new world of magic and mystique.  I'd love to tell you that you are going to get this power or that power when you wear this piece, but the truth of the matter is that what powers you gain are totally up to you. The more art you work with, the more powers you get So, it just depends on you. Are you the adventurous type to reap the reward of your discoveries?  Then this piece is definitely for you!