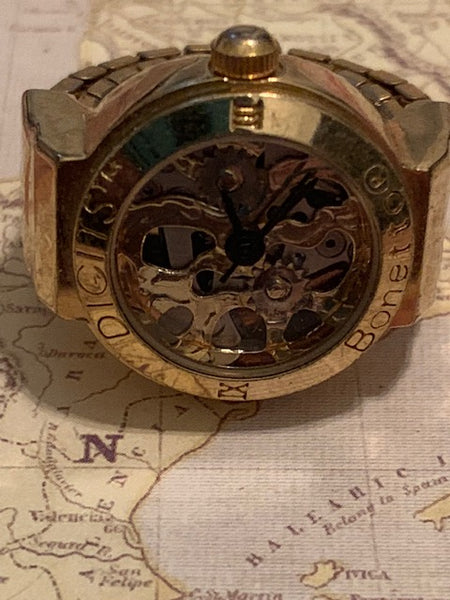 Holding Time
SOME OF THE ITEMS THAT WE SELL ARE MISSING STONES, HAVE SCRATCHES, ETC. THIS ISN'T EVERY PIECE. IN FACT, IT IS VERY FEW PIECES. IF THIS IS THE CASE IT IS BECAUSE WE GOT THEM THAT WAY, BECAUSE THEY ARE OLD, OR BECAUSE THEY HAVE A LITTLE BIT OF WEAR DUE TO TESTING. WE HAVE TO HANDLE AND TEST ALL THE PIECES THAT WE SELL TO MAKE SURE THAT THEY WORK PROPERLY AS PER THE DESCRIPTION. MANY OF THE ITEMS WE OFFER ARE VERY OLD, ARE ANTIQUE, ETC. SOME OF THE ITEMS REFLECT THAT WEAR. THIS DOES NOT MEAN THAT YOUR ITEM IS LESS POWERFUL OR WILL NOT WORK WHEN YOU GET IT MAILED TO YOU. THESE PIECES ARE FEW AND FAR BETWEEN ANYWAY. WE JUST WANTED ALL BUYERS TO BE AWARE OF THIS BEFORE THEY PURCHASE.

Also, Before making a purchase, please make sure you read and are familiar with our shipping policy: https://youtu.be/y8uA4M7ijVk

This piece is an incredible piece. It holds Phoenician time control magic and has been set into this piece by an extremely powerul dual powered sorcerer. The origins of his magic all lay in the ancient Phoenician wizards who were renown across the globe for their magic abilities.

This particular piece holds a bit of time magic and will allow you to completely stop time for up to 30 seconds. You will be the only person who is aware that time has stopped. You can do this for whatever reason you choose and once the 30 seconds is over everyone will go on about their merry lives as if nothing ever happened. There are many reasons that I could think that stopping time would be useful, your mind is the only limit in using this piece!
If that wasn't enough for you, this piece also allows you to travel to any point in history to exist as a fly on the wall to simply observe how things went down and/or to obtain the energies of those places.