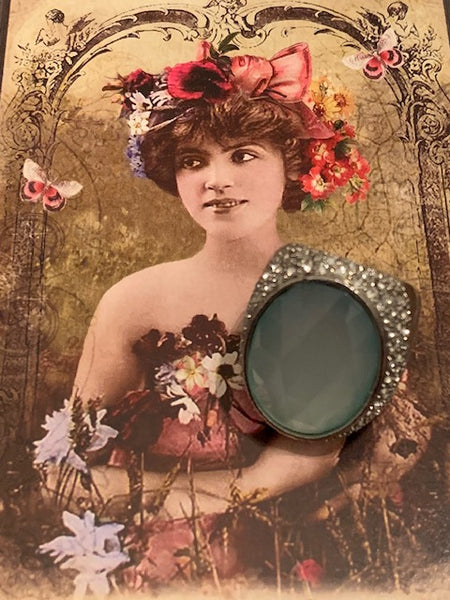 Illuminati Wealth and Fame
To all buyers, new and old, please make sure that you are fully aware of our shipping policy. I would say "new" shipping policy, but this has been in full effect for months now. If you are unfamiliar with our shipping policy, please take a moment to familiarize yourself with it. Here is a link: https://youtu.be/y8uA4M7ijVk

Today, I will be offering all costume pieces. These ones have been done differently, because we have created an energy to put into them that will allow the powers that we have put into them to be placed into a different piece, using a charging box. We did this for two reasons-- 1.) If you don't feel like wearing costume and you'd rather have this power in sterling or gold, you can create it. 2.) To make them more affordable. Remember, the 2018 Christmas sale ends in 6 days-- use code "xmas18" at checkout for 50% off this item until 01/01/19.

Diamonds might be a girl's best friend, but this piece is her means of getting them. This piece holds magic that was developed during a ritual at an Illuminati bathhouse. It was created during ritual orgies during which the spirits of the ancient gods were called forth in order to create the magic that they wanted. The bathhouse was located just outside of Paris, France. It seems that France is a hotbed for a ton of the Illuminati powers that have come to fruition, just like the time we received those anonymous letters from the man in France. They have established a strong base hold on the country, which is why it is associated with wealth and all that glistens.

So, this piece is a wealth through celebrity piece. What that means is that this piece will give you the talent and skill needed to succeed in whatever it is you desire most to succeed in. It gives you a level of talent that will allow you to become famous doing what it is you want to do. This could be acting, singing, singing, dancing, artwork, whatever. The point is you will become famous and with fame comes money. People will love you even more than they do now. They will want to see you and they will love what you do. All the while, the bankroll keeps on getting longer and the money keeps on flowing in. It truly is a win-win situation.