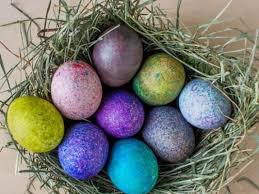 IT'S NOT WHAT'S IN YOUR WALLET,IT'S WHAT'S IN YOUR EASTER EGG? I CARRY MAGIC!
What's in your egg? I know I like to carry magic, hard core get up and go magic! That's why I carry my own stuff! Now you too can carry the most accepted magic on the planet, Dee Dee's hauntedcuriositie Easter Egg surprise! These eggs will vary in price from 50.00 to 150.00 and you only pay 25.00! Now friends,this is better then miles! Every single egg is different, some will have wealth items and other will have supreme magic items then some will have knock your socks off supernatural life changing boomtastic power! You don't want to not get these. Each egg will hold one item but it will be a good one! I will also be setting up on the forum a egg trade. Not a sex slave trade but an egg trading center. If you have something you want to trade, go on and post your egg! Each egg will come with a short description and ability or supernatural power the egg has along with how to activate it if activation is needed.
Maybe you get a GOLDEN EGG? What is in the Golden Egg? Hmm, well it's value is at least 500 but no more then 1,500.00. How many golden eggs do we have, a few!
You WILL be happy and the price is right! So what's in your egg? Buy one and see!
To trade your eggs go to www.hauntedcuriosities.com and click on the forum link and you will see the board called THE EGG TRADE. Post your pics and trade your eggs if you want to. Enjoy the fun!