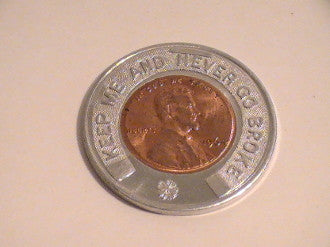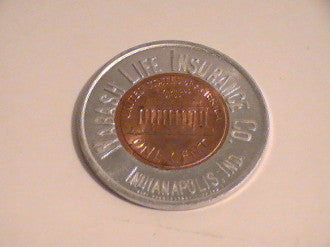 Keep Me and Never Go Broke
FROM CARNIVAL. EVERYTHING ON CARNIVAL IS ALWAYS IN STOCK EVEN IF IT SAYS OUT OF STOCK. WE HAVE MANY OF EACH ITEM! IT MAY NOT BE THE SAME ITEM YOU SEE IN THE PICTURE BUT ALL ITEMS WILL DO THE SAME AS WHAT IS STATED IN THE DESCRIPTION!


Back in the 60's someone came up with the great idea to advertise with a penny cast in a horseshoe token. These were said to be good luck and always on one side they advertised a person or place.
Millie Santiago is a Dominican witch lordess,that is what she calls herself. She lived through the 60's here in the states casting spells for hippes who never took them seriously. The thing is everyone of them she cast for is famous. They all became wealthy. Some names are the Greatful Dead, Janis Joplin and quite a few more. Some of their lives ended in drugs or suicide and some carried on to this day, Beach Boys.


Millie took these coins and seeing that they were already destined for wealth decided to cast her blood and fire wealth spells onto them along with allowing any spirit who wanted to help use it as a vessel as long as they were of white light.


So your coin is not only already cast but is also a vessel too.


To use these do as it says, never be with out it. You may also take to the casino,use it to scratch off your lotto tickets, use it to hold done your bingo card or mark your center square. Hold it in your hand while walking the casino floor until you "feel" you need to stop. Sit down and play on whatever you want to. You may play the card tables,the one armed bandits,it doesn't really matter.
You will get one of these coins and it will be something that like American Express you never leave home with out.
11-9-15