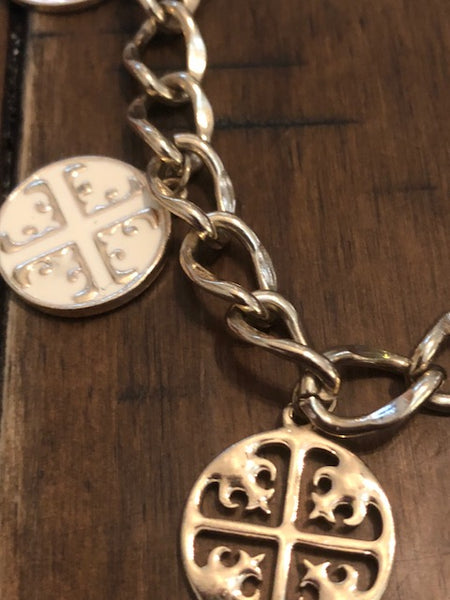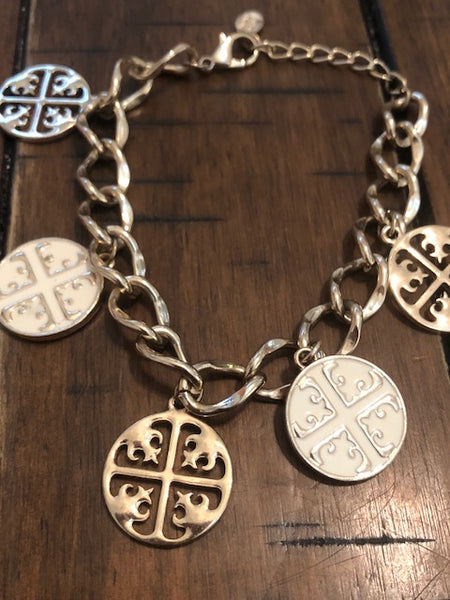 King Arthur's Finest Five
This is not a piece that we made ourselves. We acquired it during an investigation of a Masonic lodge just outside of Glastonbury in England. It wouldn't do you much good to try to search the place on the web, because it was a secret confine that kind of flew under the radar. It has since been abandoned. I don't know if the people that once congregated just moved on in their ways or if they moved on to bigger and better things. All I know is that we went there on a lead and we did a thorough investigation. We expected to find some ancient Masonic magic, but what we found instead is this bracelet, which is equally exciting if not more exciting than finding ancient Freemason magic. In fact, it makes us wonder if what we know about the history of Freemasonry is just the tip of the iceberg and if it didn't begin much sooner than what known history has led us to believe? Was King Arthur actually a Freemason? Because it is his magic that we found in the Masonic lodge.

This piece holds the conjuration of five of the knights of King Arthur's Round Table. The powers that have been set into this piece come from Excalibur, the magical sword that Arthur rode into battle with. This has allowed whoever has made this piece the ability to conjure the five knights who have been connected to this piece. These five knights are each in charge of a Celtic magic that was given by them to hold onto by King Arther and they have taken this magic to the grave. Well, it was dug up because, with this piece and the ability to conjure these five knights, you will be able to secure their magic.

The five ancient Celtic forms of magic that you get with this piece, through conjuring the knights are:

1.) Wealth-- plain and simple.
2.) Iron Will-- this power will remove all obstacles that are blocking your way
3.) Mortal Alchemy-- this is the ability to change your body into anything that you want it 4.) Mind Control-- the ability to see into the minds of others and to control their thoughts and their actions
5. Spiritual Command-- this ability allows you to gain full control over spirits that you encounter and their power/abilities regardless of where they have come from. Trust me, you will encounter them and this power will come in handy.