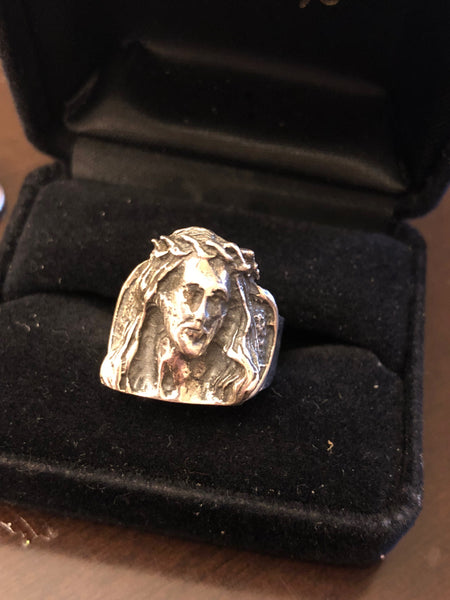 Life Cycles of Christ and the Power that comes with it.
It's not something that many people are aware of, but before God sent Christ to die on the cross, he sent him several times before that.  The final time is the tie that he finally fulfilled his duty and died on the cross to save all of humanity from their wicked ways.  However, before that happened, Jesus was sent in the form of several other very powerful Hebrew Men, the first of these being a man known as Melchizedek.   I'm not going to even pretend like I know how to pronounce the name, but he is the first recorded Jewish High Priest to have served n the Holy Temple and he is also the first incarnation of Christ.  
This piece holds the powers and the knowledge of an ancient and secret set of scrolls that was owned by Melchizedek and written in the blood of lamb that he sacrificed to God.  The piece itself comes from the Cave of Treasures and was obtained by an investigation into the whereabouts of the cave of Treasures, the secrets of which were given to us by another piece that held the knowledge of the Dead Sea Scrolls. It was crazy how this piece came to fruition, but it was so well hidden that it involved several other pieces and ancient forms of knowledge before we finally came across.  
At long last, this piece contains a power unlike any seen on the face of the Earth.  It holds the life-cycles and the bloodline of Christ.  What I mean by this is that this piece allows you to travel back in time, to relive every single life sequence of Christ as he lived them.  You can become part of Christ and replay his journeys to Earth as they are recorded in the Annals of Time and kept in the Ancient Hall of Records.  Obviously, this isn't real-time and it won't take you years to go through each life time.  When you use the piece to live a lifetime, when you return to your mortal state it will be as if only a few moments went by.  
The benefit of having this piece is the ability to experience and live the life cycles of the Christ.  There are many powers and abilities that will go along with having this piece, as I'm sure you can already imagine.  Yeah, you will get all the white magic that is talked about in the future, but you will gain so many more that you didn't know about and that we didn't know about either.  This piece is extremely powerful.  
This ring is sterling silver and a size 7 and a half. There is so much to this ring that just holding it gives power. This ring is as if you beheld all the Christs.