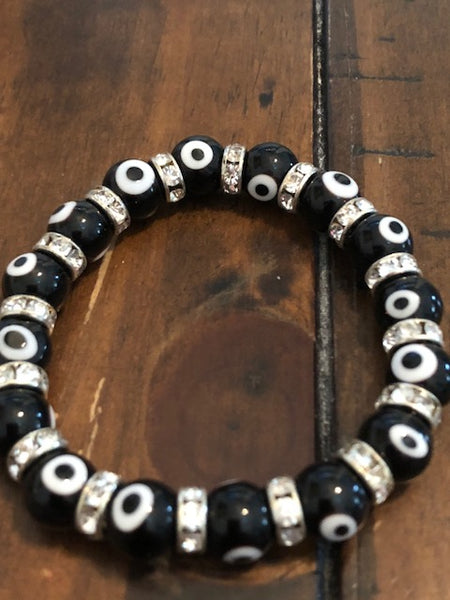 Madam Laveau's Sacred Eyes
Evil Eyes or Los Malo Ojos have long been known as a very efficient way to throw a curse or a hex at somebody that you don't particularly care for. However, having a set of these evil eyes on your body while that curse is being cast upon you has also proven very effective at deflecting that curse and in some cases even bouncing that curse right back to where it came from. That is what is on this bracelet-- a set of 16 Evil Eyes, but they aren't just any evil eye. These eyes have been empowered by the one and only Madame Marie Laveau the Voodoo Queen of New Orleans.

So, if you know that these eyes have been empowered by Marie Laveau, then you know that they will do much more than protection. Of course, they will protect you by deflecting any curse or hex that is tossed your way. However, this bracelet goes 16 steps high, because each eye is also an empty vessel of power into which you are going to place a Voodoo spell that you want. When you put this bracelet on, you will hold each of these eyes in between your index finger and your thumb. You will name them by calling out the power that you want to infuse into the eyeball bead. This piece already carries a direct connection to Marie Laveau and she will hear your request and empower your bracelet. You will need to do all 16 of these beads at one time. You cannot do one and then wait on the others. This is because once the portal is open through which Marie Laveau pulls your powers, it will also be closed. Once it is closed it is closed. My best suggestion is to put some thought into it and then make a list. Go over each bead one at a time, stating the power that you want to be placed into it. Give it 7 complete days, after which the powers will be fully invoked.