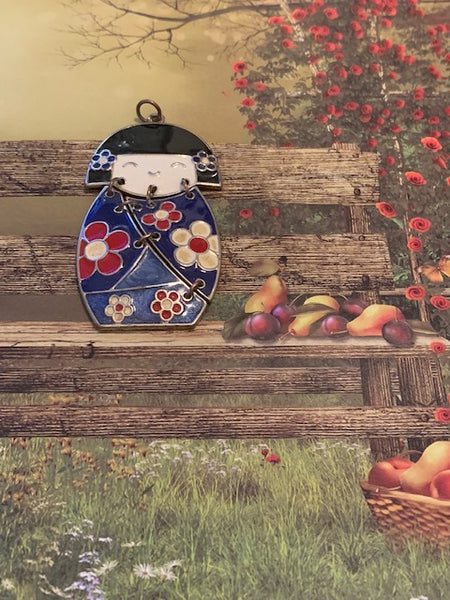 Magical Russian Mama
SOME OF THE ITEMS THAT WE SELL ARE MISSING STONES, HAVE SCRATCHES, ETC. THIS ISN'T EVERY PIECE. IN FACT, IT IS VERY FEW PIECES. IF THIS IS THE CASE IT IS BECAUSE WE GOT THEM THAT WAY, BECAUSE THEY ARE OLD, OR BECAUSE THEY HAVE A LITTLE BIT OF WEAR DUE TO TESTING. WE HAVE TO HANDLE AND TEST ALL THE PIECES THAT WE SELL TO MAKE SURE THAT THEY WORK PROPERLY AS PER THE DESCRIPTION. MANY OF THE ITEMS WE OFFER ARE VERY OLD, ARE ANTIQUE, ETC. SOME OF THE ITEMS REFLECT THAT WEAR. THIS DOES NOT MEAN THAT YOUR ITEM IS LESS POWERFUL OR WILL NOT WORK WHEN YOU GET IT MAILED TO YOU. THESE PIECES ARE FEW AND FAR BETWEEN ANYWAY. WE JUST WANTED ALL BUYERS TO BE AWARE OF THIS BEFORE THEY PURCHASE.

Also, Before making a purchase, please make sure you read and are familiar with our shipping policy: https://youtu.be/y8uA4M7ijVk

I love this piece-- like, I absolutely love it. It holds what we are calling a Magical Russian Mama. The spirit that has been attached to this piece has a name. It is Talalikhina. So, if you feel like you want to take a stab at pronouncing this, then you go for it. She is a very maternal and kindred spirit, so we just stuck with calling her Mama.

She holds extreme magic and she is from the ancestry line of Rasputin. She is much older, though and her magic is much greater. She holds the ability to change and manipulate destiny and to grant into your future whatever you want to hold. It goes along with her motherly persona and she refers to all of the people that she has helped along the way as her Yishkas, which is short for Sol'Yishka which means her rays of sunshine.

You need to do nothing to activate this piece, as it already comes pre-activated. All you need to do is hang this piece in your home and Mama will bond with your energy. She will begin to call out to you and don't worry she speaks English. She has a thick accent but she is fully comprehensible. Just listen for that word Yishka because it is the cutest thing.

Once you make your bond to Mama, you will be able to ask of her whatever you want and like the Mama bear that she is, she will be sure to grant it for you.