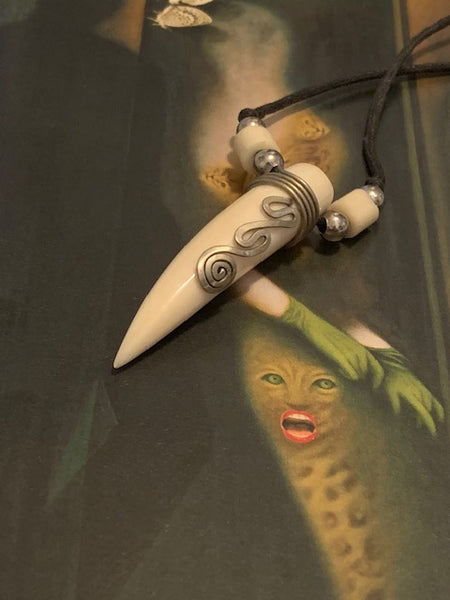 Mayan Spirit Totem
Hello shoppers!!!

From January 1st, 2019 until February 15th, 2019 there will be no shipping. We are moving to a bigger office. If you have stuff on the books now it will be shipped! If you order again and have an existing order on the books Lindy will combine it into one package, possibly. If you are ordering now it will be saved for you and will be shipped when I'm back. I have the underground auction, investigations, and customers to see. During that time Lindy will be moving offices. You are free to purchase but it will not be shipped until starting the 15th of February. Under no circumstance will anything be shipped in that time. If you can't wait, don't buy. I repeat for those who will ask me to explain this if you can't wait don't buy! As I get unique items I will show them through email and ship them from where I'm at. Thank you for your understanding.

This piece was created by a modern-day Mayan Shaman. What I mean by modern-day is that he holds the Mayan high priest bloodline, but he obviously doesn't dress up in the ancient Mayan garb. He looks like a common person would, although he holds very powerful magic and he knows it. He has made this piece specifically for us because we asked him to. The powers from this piece come from a place called the Temple of Fire. I'm not so sure that this plays any significance other than the fact that the power that was used to make this piece was sacred and ancient. We haven't offered many shape-shifting pieces as of late, so we decided we'd put one together. Well, have the shaman put one together for us!  This is the same power used by ancient shamans and skinwalkers.   

This piece holds a spiritual connection to your totem animal. Your totem animal is kind of like your spirit animal and animal guardian rolled into one. When owning this piece, you will be able to take that form to travel the astral realms. This piece also holds a totem animal that will watch over you for protection and who will guide you in the astral realms. You can ask your totem animal to lead you to powers and abilities that you want to discover, then use this piece to take your totem animal form. You'll travel together in the astral realm searching for these powers until you find them. Then, you can store these powers into this piece and bring them back to the mortal realm with you. Or, you could just use this piece to shapeshift on the astral plane and enjoy the fact that you're actually able to do it. The choice is yours, but if you love to shapeshift and acquiring new powers, this piece is definitely the one for you!