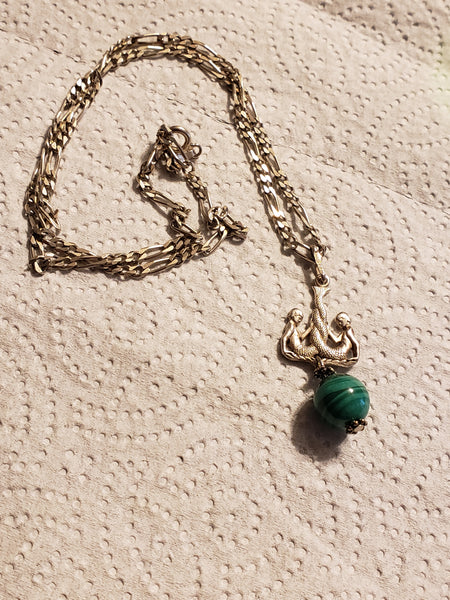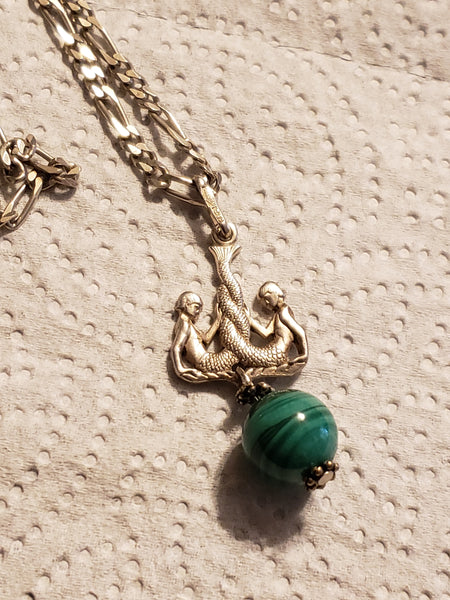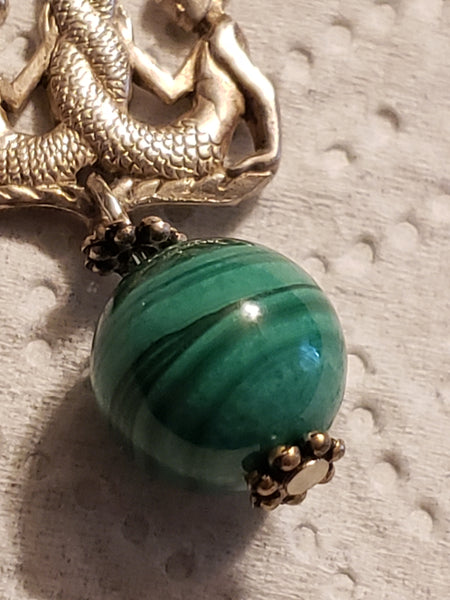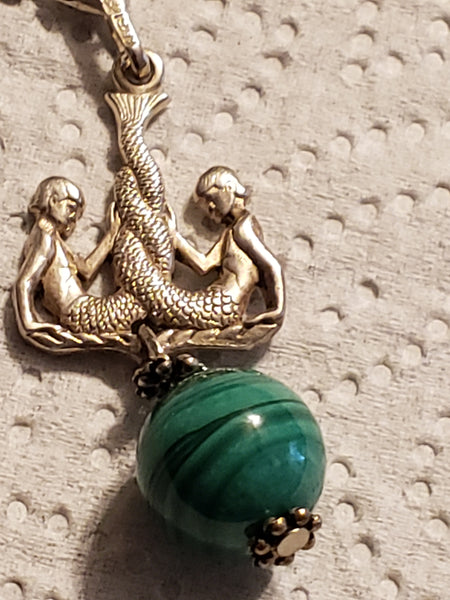 Mermaids Geminalis: All the Wealth You'll Ever Need
This necklace is a very delicate piece that carries a very powerful, metaphysical magic.  The chain is sterling silver. The double-mermaid charm is sterling silver. The stone is malachite.  The story behind how this piece came to be is actually quite incredible. We have a facility with a swimming pool.  Well, it isn't a swimming pool per se. It is a tank where we can conjure aquatic creatures. In particular, we use it to conjure mermaids.  This particular time we got quite a bit more than what we bargained for.  
When using his conjuring powers, our master conjurer summoned a creature that is actually a two-in-one entity.  You can think of these entities as conjoined mermaids. They are conjoined at the tail that functions as the tail for both of them.  The real name of these mermaids is Mermaids Geminalis. In the mermaid realm, they are simply known as Hunters. This is for several reasons.  The first of these reasons is that they can swim up to 100 times faster than any other mermaid. I know it seems weird because it's only two of them, but I'm just telling you the fact.  The second reason is that these mermaids are known to have a special kind of intuition that allows them to connect to any major power source in the world. The third reason is that they have a voracious appetite for wealth and treasure.  They have been known to swim all over the world in search of wealth just to grow their already incredible amount of wealth. 
The mermaids were conjured into the conjuring tank.  They only spoke briefly until the Master Conjurer cast a spell to place them into a piece.  Instead of being summoned into a new piece, the mermaids began swimming in a circle and create a whirlpool.  Between the two of them, there appeared a globule-like power source. As they spun the mermaids chanted in unison.  This went on for about three minutes until this piece appears in the tank in lieu of the mermaids and the energy globule.  When you wear this piece the Mermaids Geminalis will create a treasure portal. This treasure portal will pull through all the treasures of the Mermaid twins.  They open this portal with energies that only they have, which have been transferred into the malachite. The swim around in circles in an upward motion to pull their treasure forward so that way you can collect it.  This energy also transforms their physical treasure into wealth energies. This brings you an incredible amount of wealth. I would say extreme, but it is even more than that. When you own this piece you will develop a telepathic connection to the Mermaids Geminalis and tell them the kind of wealth you want.  They will direct their wealth powers in that direction and you will enjoy a massive amount of wealth.