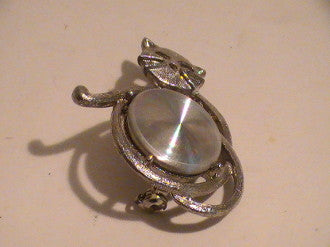 Mesmeriza, the Cat Familial
FROM CARNIVAL. EVERYTHING ON CARNIVAL IS ALWAYS IN STOCK EVEN IF IT SAYS OUT OF STOCK. WE HAVE MANY OF EACH ITEM! IT MAY NOT BE THE SAME ITEM YOU SEE IN THE PICTURE BUT ALL ITEMS WILL DO THE SAME AS WHAT IS STATED IN THE DESCRIPTION!


This is Mesmeriza the cat familiar. This cat will work on anything that has to do with the mind. Controlling others, hypnosis, love bending, mind revenge. Anything that can sink into someone's mind.
Example, if your looking to get back with your ex and he or she is not showing any interest then this would be the cat for you. Mesmeriza will plant the seeds of want and need for you into their minds.
You need a job or a new job. You would wear if it looks good or keep in your pocket this cat. Before entering the interview you let her know that you want that job. What will happen is the interviewer will only think of you any time they are ready to hire or promote. If you need a three part interview make sure you have her with you each time.


These are just some of the examples.
11-3-15