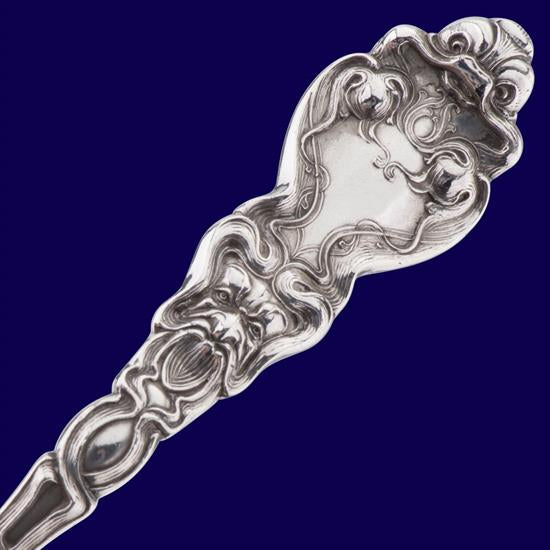 MIRACLE EATERS THE CUTLERY OF LIFE-2
NOT FOR THE CHRISTMAS SALE AND NO DISCOUNT FOR CHRISTMAS SALE. A DISCOUNT WILL APPLY OF 500.00 WHEN ALL THREE PIECES ARE BOUGHT.
This set is the one I have told people about for years. This is a set I have had for more then 15 years. I collected extras but also the second set which was made for a princess. The second set was in case she lost any. The first set is now in a museum in all of it's magical glory.
This was made to show demons who lose in life. This set gives you the magical ability to place, take away and gain what you want each and every day. This is a life set of magic.
Each piece is solid sterling silver and not coated or weighted but solid! These were made in 1904 and are antiques in excellent condition. You may buy a life set or one piece. I suggest that you own the three piece set. Each piece will be listed so if you only want one you can buy one but if bought as a set you will be SET for LIFE!
The design is exactly what you see and one of the rarest patterns available. 
What do they do and how hard is it to use them?
The spoon gives you wealth and works on it every single day. You are spooning it in literally.
The fork grabs at what you want in life no matter what that is. Grab whatever you want.
The knife will cut away anything you don't want. This can be bad health issues, aging, negative or toxic people, etc. Whatever you don't want, cut it away.
Each piece has it'sm own function and interacts perfectly with the other pieces. Each piece is 1,000 but all three are 2,500 if all three bought together.
How do you use them?
You just eat with them. Use the spoon in your coffee or for cereal, whatever. The fork, eat with it. The knife, cut your meat or anything else. There is nothing else to do.
I have hade these sets for 15 years. I use them every day and after 15 years of testing on some of the hardest subjects I have to say to live with out them is not living. Make a change in life today. These will not do time travel or immortality or things like that.
THIS IS FOR THE FORK.