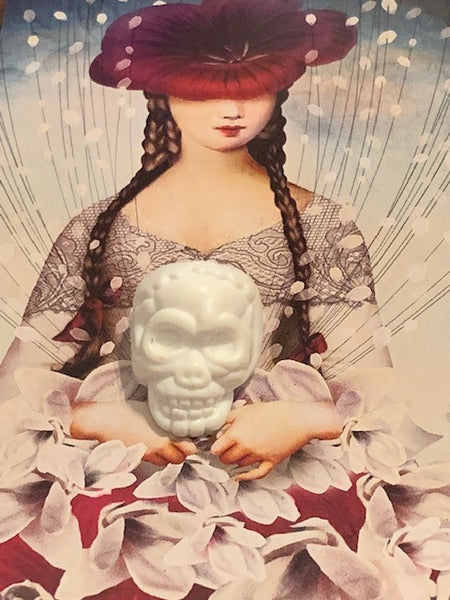 Monkey Business
To all buyers, new and old, please make sure that you are fully aware of our shipping policy. I would say "new" shipping policy, but this has been in full effect for months now. If you are unfamiliar with our shipping policy, please take a moment to familiarize yourself with it. Here is a link: https://youtu.be/y8uA4M7ijVk

Today, I will be offering all costume pieces. These ones have been done differently, because we have created an energy to put into them that will allow the powers that we have put into them to be placed into a different piece, using a charging box. We did this for two reasons-- 1.) If you don't feel like wearing costume and you'd rather have this power in sterling or gold, you can create it. 2.) To make them more affordable. Remember, the 2018 Christmas sale ends in 6 days-- use code "xmas18" at checkout for 50% off this item until 01/01/19.

This piece has seen and encapsulates the energies from a forest in Bali that is called the Sacred Monkey Forest. There is a shrine built there for the veneration of monkeys, who are believed to be the descendants and messengers of the god Hanuman who is the god of wisdom and an ardent devotee of Lord Rama. His wisdom has been known to grant many things to many different people. However, this piece holds the knowledge of the monkey god, as he has been called, for the purpose of enlightenment.

This special enlightenment is possible thanks to this piece that has seen the Sacred Monkey Forest and has seen the shrines that exist there. It has obtained the wisdom of these shrines that have been imparted on them through Hanuman. This piece gives you the ability to achieve true and unadulterated wisdom. This wisdom comes to you in the form of an energized vibration. This vibration will affect your own frequencies in such a way that will allow you to open your mind to exist as a god on Earth. What does this mean? Essentially, you will be able to create any power or ability that you want, control the energies of the world, create things such as wealth, love, and other types of magic, the ability to hold authority over diminutive entities and the ability to source your own types of magic. It gives you the ability to hold communion with other gods and to be able to summon them for the things that you need while here on Earth.