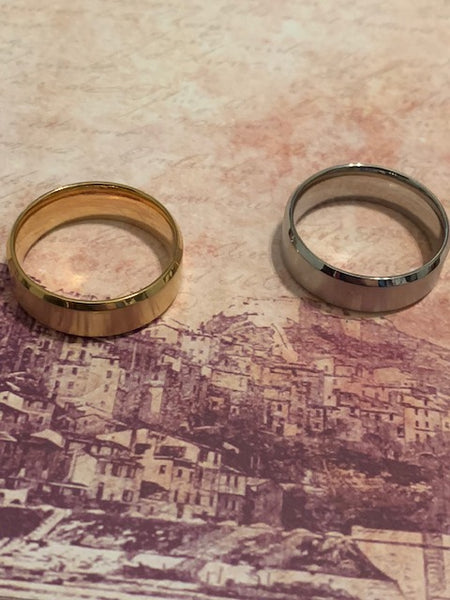 Mystery Rings of the Golden and Silver Buddhas
SOME OF THE ITEMS THAT WE SELL ARE MISSING STONES, HAVE SCRATCHES, ETC. THIS ISN'T EVERY PIECE. IN FACT, IT IS VERY FEW PIECES. IF THIS IS THE CASE IT IS BECAUSE WE GOT THEM THAT WAY, BECAUSE THEY ARE OLD, OR BECAUSE THEY HAVE A LITTLE BIT OF WEAR DUE TO TESTING. WE HAVE TO HANDLE AND TEST ALL THE PIECES THAT WE SELL TO MAKE SURE THAT THEY WORK PROPERLY AS PER THE DESCRIPTION. MANY OF THE ITEMS WE OFFER ARE VERY OLD, ARE ANTIQUE, ETC. SOME OF THE ITEMS REFLECT THAT WEAR. THIS DOES NOT MEAN THAT YOUR ITEM IS LESS POWERFUL OR WILL NOT WORK WHEN YOU GET IT MAILED TO YOU. THESE PIECES ARE FEW AND FAR BETWEEN ANYWAY. WE JUST WANTED ALL BUYERS TO BE AWARE OF THIS BEFORE THEY PURCHASE.

Also, Before making a purchase, please make sure you read and are familiar with our shipping policy: https://youtu.be/y8uA4M7ijVk

If you thought we were done with the mystery rings, you thougt wrong. This time the mystery comes from Tibet. Hidden in Tibet there is an ancient Hall of Sitting Buddhas. This Hall of Buddhas is hidden from "outsiders" and the only reason we were even able to travel there is that we have connections with one of the monks from a previous investigation that we had gone on.

Walking through the hall you would think that it was adorned with the most intricate and beautifully carved Buddha shrines. In fact, these are not shrines, but the bodies of previous monks who have attained enlightenment. These buddhas have skeletons on the inside just as a human body. They do not breath because they no longer have that need. This is because they have achieved such a high degree of nirvana that their bodies have undergone an alchemy metamorphosis into the entities that they have become. They are all knowing and the monks that practice their faith within the hall are in constant telepathic communication with the buddhas to seek the answers that they want.

These pieces have been made to mimic the golden and the silver buddhas that live in the Hall of Sitting Buddhas. With one of these rings, you will undergo an alchemy metamorphosis of your own through which your DNA will be rearranged and you will live as a god on Earth. You will be able to manifest your will not only in your own life but your will for the lives of those around you. This means that whatever you want to come to pass for these lives will come to pass whether that is riches or ruin, love or loneliness, happiness or bitterness. You can use these powers to affect destinies, but I would use them for good. You are always under the rule of dharma and karma and you don't want to have to answer to the consequences of inflicted negative will upon other people.
We have two of these pieces.  One is gold-toned and one is silver-toned.  You can select which one you want at checkout.