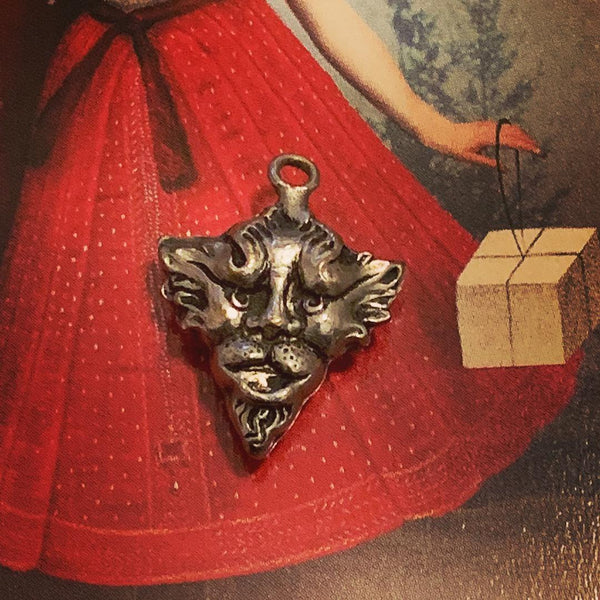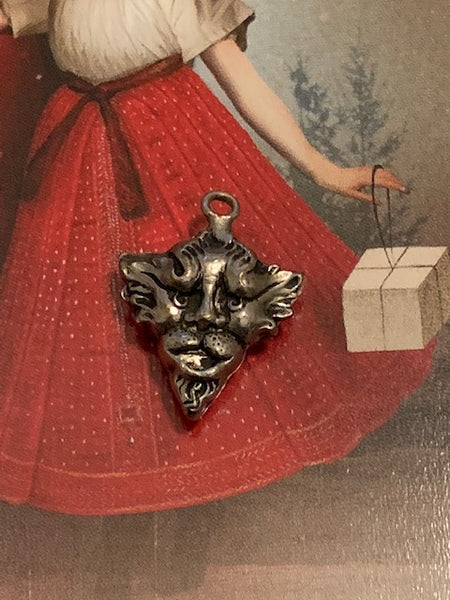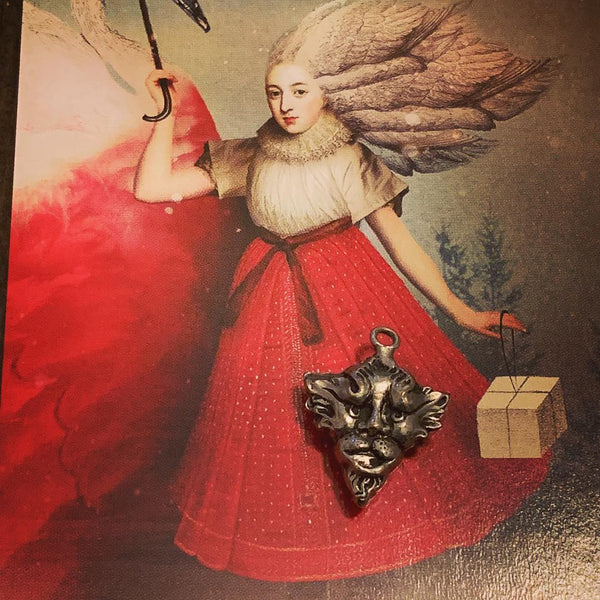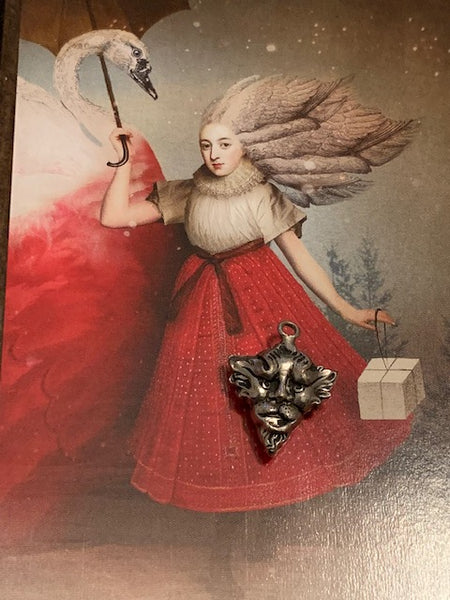 Namath: Illuminati Speaker of Knowledge and Power
SOME OF THE ITEMS THAT WE SELL ARE MISSING STONES, HAVE SCRATCHES, ETC. THIS ISN'T EVERY PIECE. IN FACT, IT IS VERY FEW PIECES. IF THIS IS THE CASE IT IS BECAUSE WE GOT THEM THAT WAY, BECAUSE THEY ARE OLD, OR BECAUSE THEY HAVE A LITTLE BIT OF WEAR DUE TO TESTING. WE HAVE TO HANDLE AND TEST ALL THE PIECES THAT WE SELL TO MAKE SURE THAT THEY WORK PROPERLY AS PER THE DESCRIPTION. MANY OF THE ITEMS WE OFFER ARE VERY OLD, ARE ANTIQUE, ETC. SOME OF THE ITEMS REFLECT THAT WEAR. THIS DOES NOT MEAN THAT YOUR ITEM IS LESS POWERFUL OR WILL NOT WORK WHEN YOU GET IT MAILED TO YOU. THESE PIECES ARE FEW AND FAR BETWEEN ANYWAY. WE JUST WANTED ALL BUYERS TO BE AWARE OF THIS BEFORE THEY PURCHASE.

Also, Before making a purchase, please make sure you read and are familiar with our shipping policy: https://youtu.be/y8uA4M7ijVk

When you talk about weird and creepy and the sort of things that are known for haunting dreams, this piece should come to mind. Now, I'm not saying that this piece will do anything bad to you. In fact, I know it won't. However, the place we had to go n order to get this piece could have posed us a bit of a threat if we weren't careful. That is because this piece used to be housed in a temple that is just north of Seattle, Washington. It was built by the Illuminati as West Coast confines that could exist apart from the Bohemian Grove. Let's face it, just about everybody and their uncle has heard about Bohemian Grove, but for the first time ever we are shedding light on the secret Illuminati Temple in Seattle. I mean, and why shouldn't the have a temple near Seattle? Seattle is one of the most depressing cities on Earth. It rains there like 5 days a week. I don't even know why they hire forecasters from that area.

Either way, the Temple was, of course, hidden because the Illumnati can't just build a temple into the air. People will get suspicious. Then, the Illuminati will have to start killing them. Then, people are going to start complaining about their missing family members. To keep things secretive, they usually build down, not up. This particular temple was cylinder in shape and some 39 floors into the Earth is where the stopped. On the last floor of this temple is the place where the most activity occurs. There is a large auditorium that is full of Luciferian symbols and other types of markings. There is a raised platform and that is where they perform their ritual of Blood and Fire. The blood is a sacrifice for the gods who crave sanguine energies. The fire is the portal by which the gods manifest themselves, sometimes in physical presence, but mostly in spiritual form.

We got this piece while using a bilocation magic that allowed us to exist as flies on the wall. Really, we were invisible because we traveled in spirit form. This was so that way the Illuminati wouldn't encounter our intrusion. There was no way that I was going to be the next blood sacrifice. Not happening. SO, this was the magic we used. That magic allowed us to bilocate and to creep into the chamber where they were performing a conjuring ritual for the god Molech. I mean, it's not like we just showed up and happened to get lucky. Nope. This wasn't our first time in the temple and it surely wasn't our first rodeo. We planned this accordingly so we knew what we had to do and we knew that we had to do it quickly and efficiently.

During the ceremony, there was some pomp and circumstance, but long story short they ended up summoning the God Molech, in his naked, ugly, bloody form. They never look pretty when being conjured and this was the case. Of course, the blood he was covered in wasn't his own and he wasn't burnt by the fire that he was raised out of. The scent of rotting flesh filled the air and the people who attended began to clap feverishly, chanting in Latin in unison. It became more of a roar to be honest with you, a deafening roar. As Molech stomped around with his face toward the ground on the raised stage in front of-of everyone. He was speaking in some language that I couldn't recognize, but basically, he was telling them that as a reward for their blood sacrifice there would a total of one relic made. They could either share it or fight for it, the choice was theirs. Of course, the never got to do the because as the piece was being handed off to the master of ceremonies, Deedee projected her soul into his body. She gripped the piece and immediately afterward we ended our bilocation journey. Nobody saw us. All they know is the piece is gone.

When we got back to our own headquarters we immediately began testing this piece. It is a strange looking piece and we aren't exactly sure where it has come from. The piece does not hold the presence of Molech as we suspected. Rather, it holds the presence of one of his highest servants and the servant's name Namath. He is the Teller of Secrets and Wisdom. When using this piece and you ask him questions about the Illuminati powers and ability, he actually speaks to you. He does this telepathically, not with an actual voice, so he will speak to your mind in the form of words and pictures. You can ask him anything and he will give you the answer. Namath goes back in time to a time before humans even existed, so the wisdom that he can give you extremely ancient. He will tell you the answers to any question that you may have regarding magic, sorcery, alchemy, etc. In addition, he will grant you any powers that you ask him for OR he will tell you how to get them. Again, this he will do by showing you visions and speaking to you telepathically. He is basically the bearer of all knowledge and, as such, is allowed to grant whatever he is asked.

Whoever gets this piece will inevitably become extremely powerful. I guess the question is, how will you use it? With a piece that will speak secrets of Illuminati Magic and whatever you want from it, the possibilities are virtually endless!!