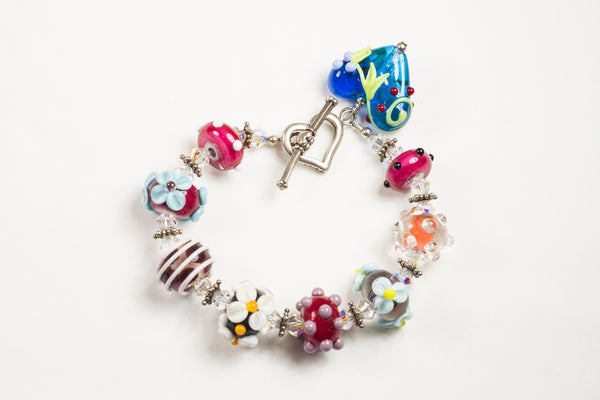 NAME YOUR PASSION OF THE HEART AND KICK YOUR RELATIONSHIP IN THE ASS!
I love this one and it is a catalyst for all other pieces that work on love and relationships. This piece powers up all others but it also takes everything you want to another level. This is made of all hand made glass including the heart. The heart features what looks like a growing plant on it as it allows both hearts to grow in logic and in love. The logic part is important as one of you might not have it but with this obvious problems and those that are not obvious get fixed! People that stand in your way, family or otherwise will learn to back off. The 8 glass beads are for the 8th Heaven a place where soul mates get tuned into each other so no one can break them. The heart itself bonds to both you and your mate allowing for a bond that will never be broken no matter what the inter issues are. This is one that everyone can use in one way or another.
This is the only one that I have like this. This was made, two of them were made but one did something much different. These, this one was made by Merick a guy who's only specialty is love and relationships and he creates using energy and in knowing how both married, single, men and women feel. He is part spirit and has dealt with every kind of situation known.  He has dealt with financial situations, sexual situations, guilt, divorce, non feeling partners and even depression in love. He has fixed cheating, soul mates that can't connect due to other people, etc. There is nothing he hasn't dealt with. Yours can be personalized by sending your birthdate and your mates or the mate you want.
Mericks work is extensive and he gives all his attention to who he is working on. He recently helped me with someone who was in a black cloud. They are getting free of it now and trust me they were bad off!
While this piece is supernatural the man behind the power is extremely skilled. Very soon I will be doing my own. While I'm great psychically we all can always learn. I will be doing my first piece soon! I can't wait. I actually already did it but I need him to test it.