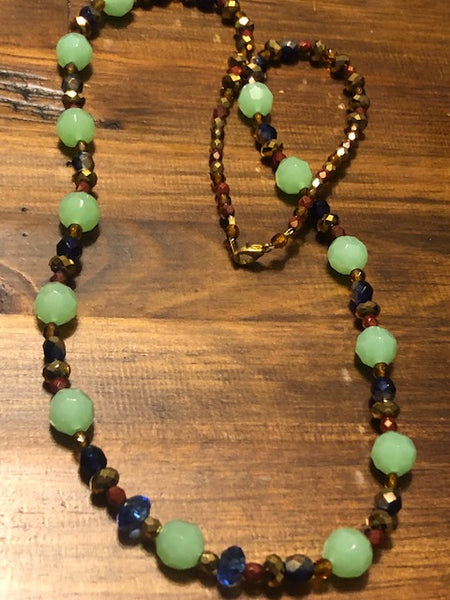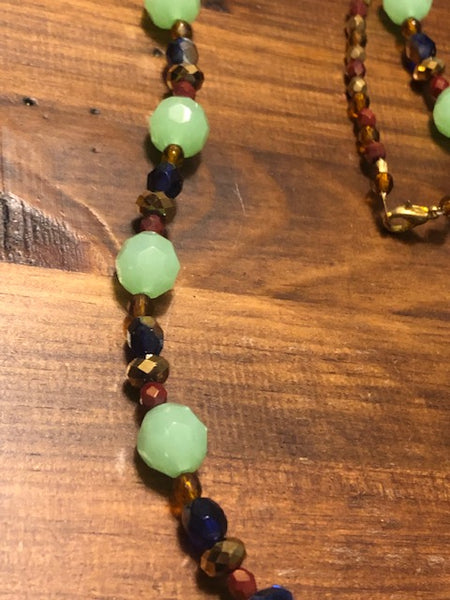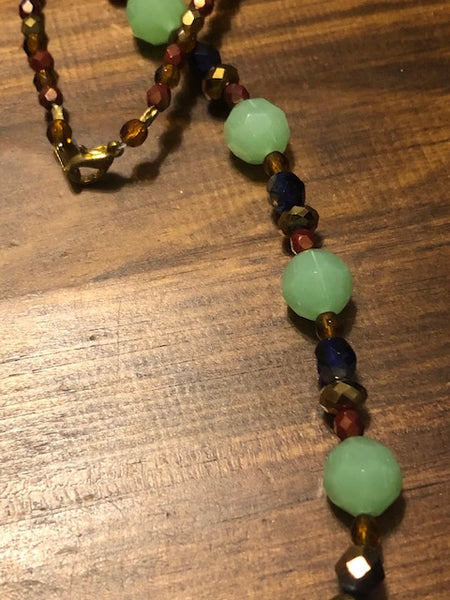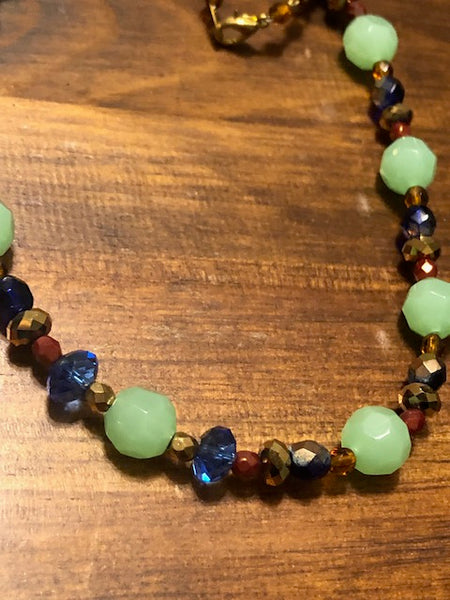 Necklace, Glass and Genuine Crystal, The Elder Witches in the Mirror
Sometimes historians never bother to tell the real truth.  To be fair, sometimes they don't know the real truth.  They go by what they think they know and then somehow that translates into facts.  For instance, the skeletons that were recently unearthed at the Tower of London.  They suggest that these two skeletons were simply "normal people" who must have lived and worked inside of the Tower during the early Tudor era.  

We are in cahoots with people on the ground everywhere and I'll have you know that these two skeletons were not simply "normal people". Rather, they were tortured just like any of the others that stayed there.  Long story short, the lady to whom the skeleton belonged hated the Tudors.  Using ancient witchcraft, she intended to displace the Tudors.  That was until her sister sold her out and the king's official came a-knocking.  

They tortured the poor woman, trying to get a confession out of her, but she wouldn't budge.  They destroyed her possessions and burnt her home to the ground.  Still, she wouldn't concede.  The put her through some very barbaric torture practices.  Still nothing.  Finally, they threatened to murder her only son, whom she claimed was the rightful heir to the throne.  At this, she confessed that she had been using ancient magic.  

According to her confession, this magic allowed her to use a mirror to peer in the world of the Elder Witches.  Once she was able to do this, she was also able to call for the Elder Witches and petition them for her magic.  They agreed to do as she asked-- take down the Tudors and succeed her son to the throne.  However, before the woman could complete the ritual that they asked her to complete, her sister had turned her in.  

Her son was killed anyway.  She was also found guilty of heresy and burned.  The bones are all that remain, but I guess they gave her the common decency of being buried with her son.  I'm sure they are somewhere in the afterlife together.  As for the magic that she was using-- it was still present in her bones.  The energies of this very magic were extracted from her bones and set into this piece.  

This piece allows you to communicate with the Elder Witches in the same way that she did.  You will be able to use a mirror to peer into their realm, to see them, and to ask them to grant you power or magic or to perform a task for you.  Sometimes they will ask you to do a ritual.  Other times they will ask you for nothing.  It depends on what you are asking them for.  Most of the time they will not ask for anything, especially if you are just asking for magic.  The woman was asking for them to change the course of history, which is why they needed her to perform a ritual.  They are capable of granting very powerful things.  

Instructions:  To use this piece you will need a mirror.  It has to be a large mirror, not a hand mirror or looking glass.  You will light a candle and sit in front of the mirror.  It must be dark except for the candle that you have lit.  This will draw out the reflection from the mirror and allow you to peer into the realm of the Elder Witches.  At this point, the Elder Witches will appear to you and you can approach them with any requests that you may have.  
YOU ARE PURCHASING HIGHLY MAGICAL, HAUNTED JEWELRY.  THIS PIECE HOLDS ANCIENT METAPHYSICAL POWERS THAT WILL TRANSFORM YOUR LIFE.  THIS PIECE OF OCCULT MAGIC IS JUST ONE EXAMPLE OF THE AMAZING PRODUCTS WE SELL HERE AT HAUNTED CURIOSITIES.