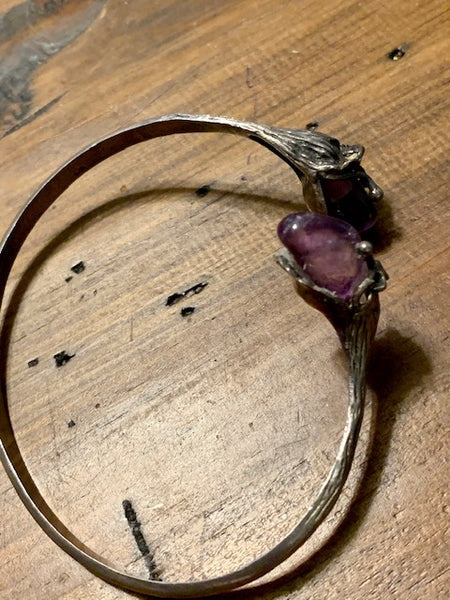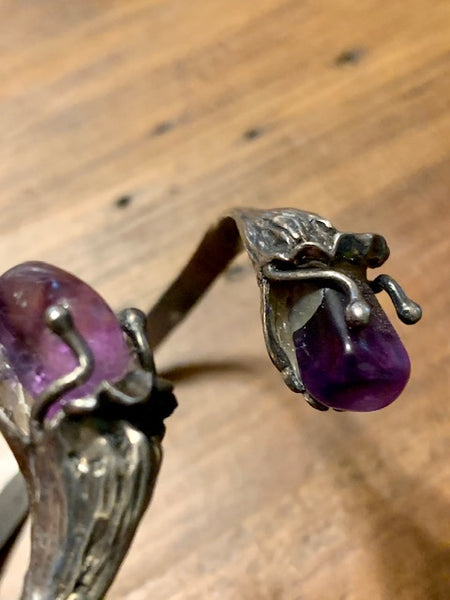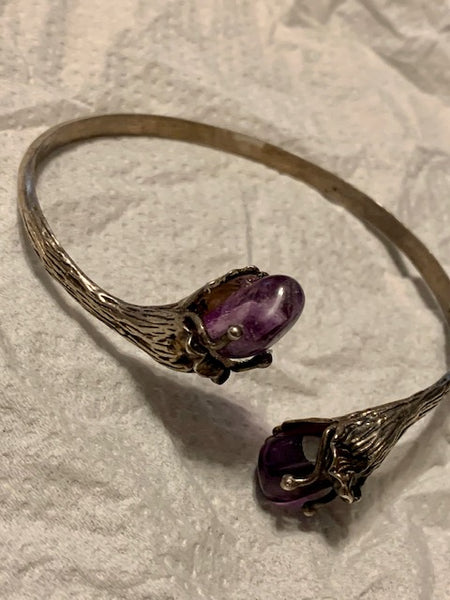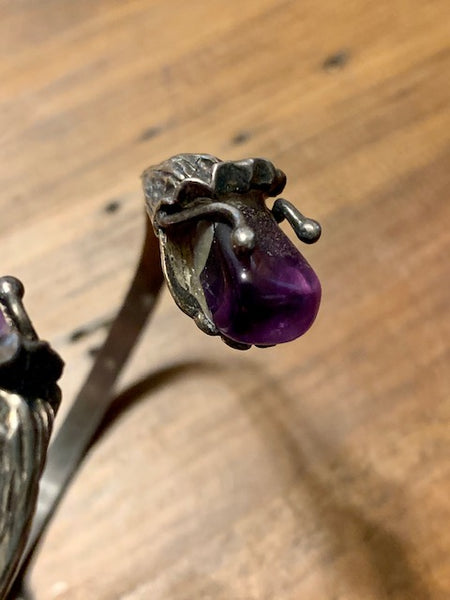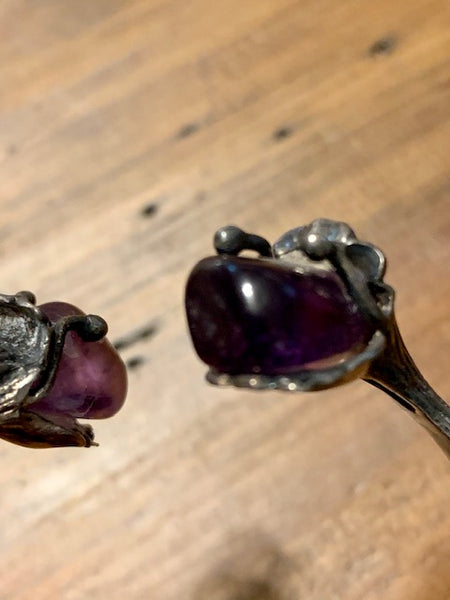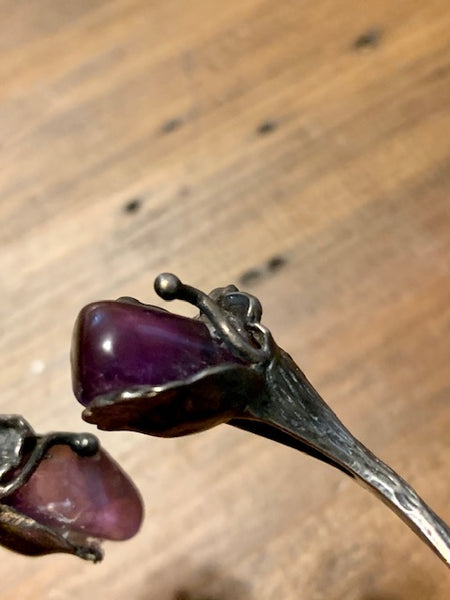 One-of-a-Kind Sterling Silver Bracelet w/Polish Amethyst: Secret Coven of Columbia
This piece is a beautiful sterling silver ring with polished amethyst.  It is a fine specimen of metaphysical power that we recovered from an investigation in Washington, D.C.  As most of you know, the politicians that serve the country don't always wear the same hat that they wear when they present themselves to the nation.  They wear many hats. Some of these hats are sinister hats and they require child sacrifice and other sorts of things that might give people nightmares.  Then, there are those secrets that aren't necessarily evil, but they are rooted in the unknown and the occult. That's the basis for this piece.  
As I'm sure you also know, the people in D.C. crave power and control, which is why the city was set up on a Masonic sacred geometry grid in the first place.  This piece that we are offering is one a few that were created by a coven of witches who are known as the Secret Coven Columbia. The Coven of Columbia is a coven all-women witches that descend from the original coven of Babylon.  This same bloodline is responsible for the birth of witches and magicians such as the Witch of Endor and the Sages of Safi. They are extremely powerful as their magic and power have come from the ancient Hanging Garden of Babylon.  
The garden was created by the Wife of Nebuchadnezzar II who was the first and founding Witch of Babylon.  She was commissioned by an ancient force known as the Council to create the Hanging Garden and in return, she was given powers beyond imagination.  This is because her gardens were created on an energy hub that she was able to draw energies from to create her magic. Anyway, she was a feminist who believed in empowering women, so she created a coven with whom she shared her magic.  Some of these coven members are still around to this day, some of them are new. Some of them live in America and call themselves the Coven of Columbia. They create magical pieces for pay, for the politicians who are willing to pay for them.    
This is one of those pieces.  It was originally created during a ritual sex ceremony for a very high-ranking Washington official. I've agreed to leave out names in exchange for the items.  This piece holds two ancient amethysts from the original spot where the Hanging Garden used to be located. These Amethysts hold the power and magic of thousands of years of knowledge.  ONe grants wealth. This is the wealth power that allowed King Solomon to solidify his place in the history books as the richest person to have ever lived on Earth.
The second amethyst allows you to write your own reality.  What I mean by this is that it allows you to write things about yourself that will come to pass.  For instance, you cannot write "I wish the Pope were dead," and expect it to come true. It won't.  What you can do is write things about yourself and your own life, such, "I want to become a successful business owner."  Or, "I want to become a professional athlete." In the case of the politicians they've been writing things such as, "I want to win re-election," or "I want people to donate millions of dollars to me."   You can see that it has obviously been working, as there are some politicians who, like cockroaches, refuse to go away. (cough, cough Nany Pelosi).  
When using this piece, there is nothing you have to do to activate the wealth amethyst.  It will get to work as soon as you begin wearing the piece. As far as the amethyst that allows you to write your own reality-- there's a small ritual.  All you need to do is light a red candle and by the light of this candle, you will write what you want your reality to be. Then, you will wear this piece and wait or that reality to come true.  I just want to clarify-- we do not know how long it will take for your request to be granted. It depends on what you are asking for. Please do not email asking if what you have written will come to you tomorrow.  We don't know. It depends on how well of a connection you made with the piece and, again, what you are asking for.