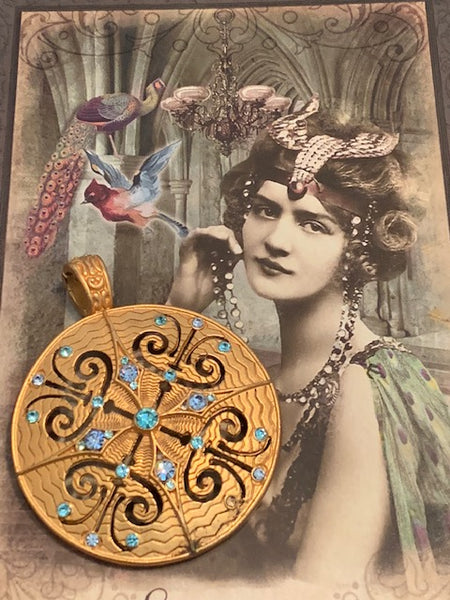 Ploutos' Manifestations of Wealth
Hello shoppers!!!

From January 1st, 2019 until February 15th, 2019 there will be no shipping. We are moving to a bigger office. If you have stuff on the books now it will be shipped! If you order again and have an existing order on the books Lindy will combine it into one package, possibly. If you are ordering now it will be saved for you and will be shipped when I'm back. I have the underground auction, investigations, and customers to see. During that time Lindy will be moving offices. You are free to purchase but it will not be shipped until starting the 15th of February. Under no circumstance will anything be shipped in that time. If you can't wait, don't buy. I repeat for those who will ask me to explain this if you can't wait don't buy! As I get unique items I will show them through email and ship them from where I'm at. Thank you for your understanding.

This piece has been created for the purpose of royal wealth. That's why we chose the background with a peacock. The peacock has long been associated with wealth and royalty, so it was quite befitting when thinking about all this piece can do for you. The piece itself was made during a royal sex ritual. You know, gather up some of your best royal friends, get together, have an orgy, collected the residual energies and use it to create wealth item. You might laugh, but that is pretty much how it goes. When you're invited to one of the Royal dinners and somebody approaches you to tell you that you've been invited to the Royal Ceremony, you pretty much know what's about to go down. I mean, they are obsessed with sex because... well... it's sex. Also, the energies that accrue from sexual tension and the act of sex itself are incredibly powerful.

Ancient codings have been carved into this piece. They are an homage to Ploutos who is the Roman God of Wealth. Ploutos is technically and male god, but he is androgynous and likes to enjoy the finer things in life and in heaven. He has always been like that, despite how you may have seen him imagined. With wealth like he can grant, I'd probably be flamboyant and prance around in fancy wigs and jewelry too. Either way, he loves granting his wealth powers to people. This piece summons him four times to grant you the power of Ploutus' wealth, time four.
This is extreme wealth and will come to you a variety of forms when you least expect it. This isn't the type of item that gives you wealth where you need it and that is only because it gives you wealth in ALL areas of your life. This piece is pre-activated, so there is nothing you have to do except wear it when you receive it and wait for your wealth to begin manifesting.