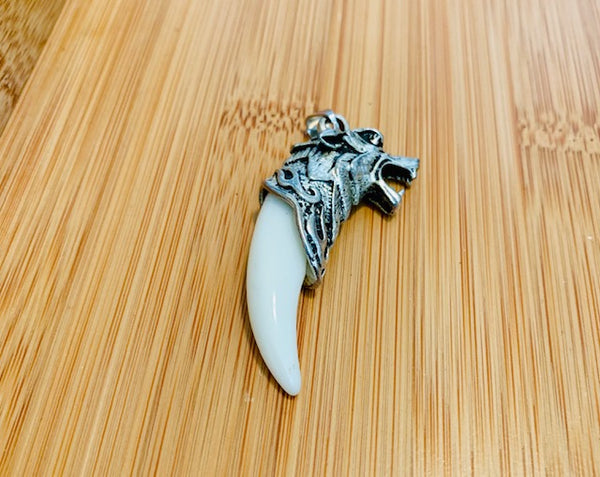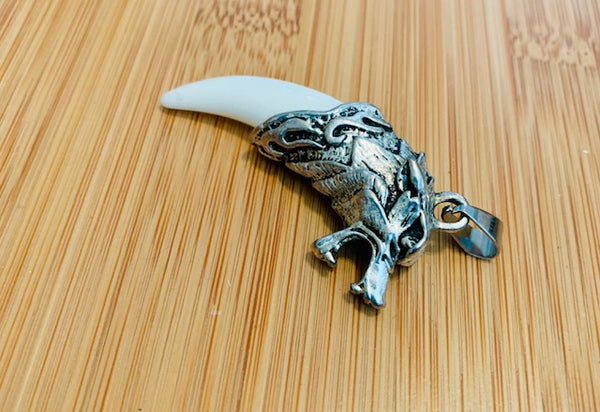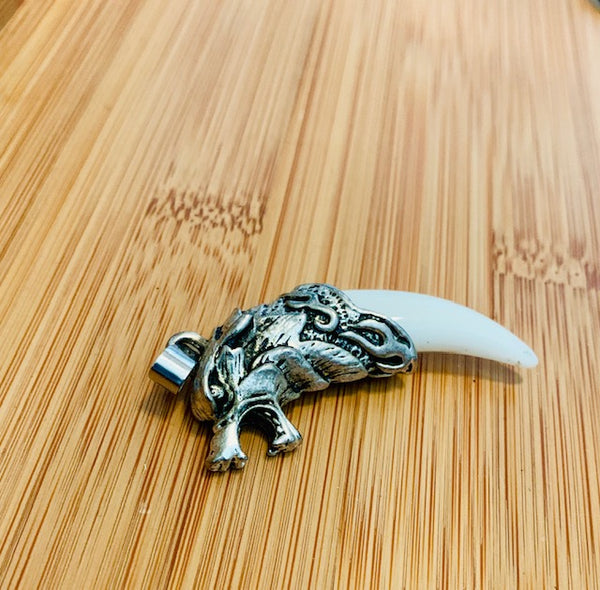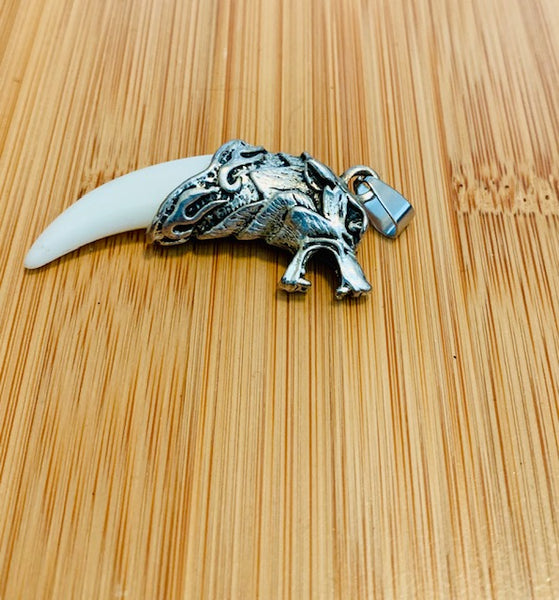 Raedwulf
For those of you who have been with us for a while, you will remember the Benandati Wolves. These are pure white light wolves that were given their ability from the angels. Their purpose in existence? To shapeshift at night by the light of the moon in order to protect humankind from the likes of the evil creatures that lurk during the witching hour. Thus, the wolves and witches became sworn (im)mortal enemies. Despite the fact that there was a public charade in which the government at the time (so the church) accused the Benandanti Tribe of being heretics, the tribe still exists to this day.

The battle between good and evil still rages on to this day and as many of our customers can tell you white wolves are extremely powerful. We got this piece at the Underground Auction. It holds the essence of an original Benandanti wolf name Raedwulf. He is called Raedwulf due to his fierce battle tactics, immense strength, and his role as a leader of a brigade of 40 white wolves. He was a brilliant soldier and not just because of his might. He was blessed with white light sorcery and the ability to create white light magic, too. Along with that, he has achieved the honorary ability to control legions of angels that live in Heaven that can bring him virtually any power that he asked them for.

When you get this piece and the essence of Raedwulf, he will come to you in white wolf form. This might be a little intimidating at first, but it is only a spiritual form. If he senses that you are anxious or scared he will leave until you have calmed down. He will appear as a white wolf with green-golden eyes and a stripe of silver on his back. He is one of the most beautiful white wolves we have ever experienced. He is also one of the most powerful. He will bring you all the magic that he has been given through his existence as a white wolf. You will, however, not be able to shapeshift. This is not that kind of piece. If that is what you are interested in, we have those.

Keep in mind, when you get this piece you are also getting Raedwulf's protection from evil and trust me-- evil cowers in his presence. You will absolutely love this piece.